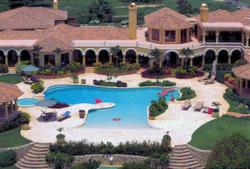 We listened to our travel agent partners to create unique program just for them.
Cabrera, Dominican Republic (PRWEB) June 14, 2013
Villa Castellamonte, the most exclusive ultra-luxury vacation villa rental in the Dominican Republic, announced today a new feature of its popular rental program, available immediately only to qualified travel agents, to offer all-inclusive per person pricing to their clientele. Travel agents are now able to provide reservations for their clients based on a per person basis allowing agencies to book very similar to how hotels, B&B's and all-inclusives are sold. As an added feature, these agency-only bookings provide an all-inclusive package containing all meals, snacks, beverages, premium-grade liquors and gratuities.
"We listened to our travel agent partners to help craft a unique rental program to enable them to provide our luxury villa as an option to their clients," commented Jason Matthews, owner of Villa Castellamonte. He continued, "Pricing on a per person, all-inclusive, basis allows their customers to more easily compare the value of our luxury villa rental vs the traditional all-inclusive or hotel option." Mr. Matthews built Villa Castellamonte in 2001 as a personal family vacation destination and was named "Top Villa Rental Agent" by Conde Nast Traveler in 2010.
The new per person pricing model, available only to travel agents, pays a 15% commission on the total reservation amount (not just the rental fee). Low season daily rates (Sep 1-Dec 15) are $400 per person, mid season daily rates (Apr 1-Aug 31) are $500 per person and high season daily rates (Dec 16-Mar 31) are $600 per person. Each season has a minimum eight person group required for a reservation.
"As a private vacation rental, groups reserving Villa Castellamonte through their travel agent, will continue to enjoy complete privacy, exclusivity and the exceptional service upon which the reputation of the villa has been built over the past decade. No other group will share the facilities or staff; everything in the villa is dedicated completely to the satisfaction, relaxation and happiness of one group (family, wedding, etc) at a time," said Mr. Matthews. "The most exclusive luxury villa rental in the Dominican Republic will remain that way!"
About Villa Castellamonte
Villa Castellamonte is an exclusive, 15,000 sq. ft., 8-bedroom / 10-bath, fully staffed luxury villa vacation and wedding destination located in on the north coast near the town of Cabrera, Dominican Republic. Offering luxury vacation rental availability year around, Villa Castellamonte may be contacted toll-free at 1-888-589-8455 (Int'l +1-702-900-3121) or contact your favorite travel agent for additional information.