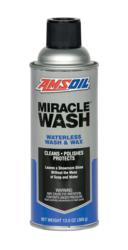 Superior, WI (PRWEB) June 13, 2013
AMSOIL announces the reformulation and repackaging of AMSOIL Miracle Wash® Waterless Wash & Wax, a quick and convenient automotive wash that delivers outstanding performance in an economical spray can. Once applied, it protects against the sun's ultraviolet rays, repels light dirt and dust, and leaves vehicles with a shiny, tough protective finish.
AMSOIL Miracle Wash & Wax allows for ease and convenience in application, involving just two easy steps and no water. When applied, specially formulated surfactants lift dust and dirt from the surface and hold it in suspension. Miracle Wash then acts as a shield protecting the surface from abrasion while you wipe the surface clean.
Miracle Wash can be used on cars, trucks, motorhomes, motorcycles and more. Its fresh new formula and packaging is unchanged in price.
About the Company: AMSOIL has been the recognized leader in synthetic lubrication since 1972. For more information about AMSOIL synthetic motor oils and specialty aftermarket product,s contact your nearest AMSOIL distributor, or call AMSOIL at (715) 392-7101 or 1-800-777-8491. AMSOIL INC., 925 Tower Avenue, Superior, WI 54880, or go to http://www.amsoil.com.
News Contact:
Ed Newman
Advertising Manager
Ph. 715-392-7101
enewman(at)amsoil(dot)com