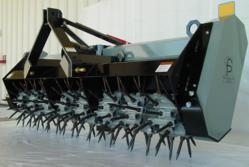 In today's market, efficiency is the name of the game. The AGRI-Vator is a key player, increasing water filtration, incorporating nutrients and reducing runoff."
Tifton, Georgia (PRWEB) June 17, 2013
First Products, a company with a history of developing patented turf equipment, recently received the GaLaBau Innovation Medal 2012 for "important technical innovations" for the AGRI-Vator at the 20th International Trade Fair for Urban Green and Open Spaces by of the Association of Horticulture, Landscaping and Sports Fields.
According to GaLaBau, this medal - as in previous years - recognizes successful development of new and advanced solutions to problems with products or procedures for the construction and maintenance of landscaped areas.
The AGRI-vator's primary functions include renovating turf farms as well as aerating and relieving compaction in pastures and hay fields, along with other heavy duty turf and farm projects. This machine will aerate up to 6″ deep and the crushing action between the rotors breaks up the soil in the root zone, significantly improving infiltration of air, nutrients and water while minimizing lake and stream runoff. The First Products AGRI-vator is designed to allow the operator to vary the tine aggressiveness by changing the PTO and groundspeed.
First Products designs and manufactures turf and agriculture equipment in Georgia. For more information call 1.800.363.8780; or, see a video and additional photos at http://www.1stproducts.com.