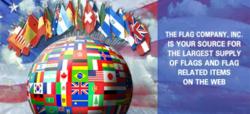 Atlanta, GA (PRWEB) June 13, 2013
With its network of flag and flag products companies, and commanding dominance on the Internet, The Flag Company, Inc. is now the nation's "go-to" purchase source for all manner of flags and flag-related products.
Over 8,000 products are available, and with same-day shipping service if ordered by 2 p.m., tardy shoppers can still make deadlines and be on time. The Flag Company, Inc. is an established major supplier for cemeteries, parade events, business-to-businesses, schools, police officer and firefighter establishments and functions, government departments and facilities, and more.
The Flag Company's large inventory includes American flags, military and state flags, custom flags, and flags of the world. There is a full line of real estate flags, including their successful Farming Flag® and message flags for realtors, small businesses, and large corporations. The Flag Company, Inc. also provides made-to-order flags for private or corporate events, trade shows, or any event where it's desired to prominently display a name or logo. Custom orders are easily and swiftly handled by an experienced art department that assists in expertly creating the perfect artwork for a specific need. Now the most renowned, user-friendly online source for flags, flag accessories and flagpoles, The Flag Company, Inc. is the "go-to" online source.
About The Flag Company, Inc.
Celebrating 25 years in business, and named one of the Top 25 Small Businesses of the Year by Georgia's Cobb County Chamber of Commerce and the Atlanta Journal-Constitution for the past two years, The Flag Company, Inc. is the largest online flagpole supplier offering a complete range of flags and flag-related products in addition to its line of flagpoles and signature Flagpole Beacon. Custom screen-printing and digital printing are available for special events, corporate logos, etc. Stock merchandise includes U.S., state, international, and military flags, and all types of accessories such as bunting, memorial cases, pennants, and more. The Flag Company, Inc. is the nation's largest producer of message flags, offering over 300 different messages used by realtors, restaurants, car dealerships, and any other kind of company imaginable. Toothpick flags—both stock and custom-made to order— are also available. The complete product line can be viewed at http://www.flagco.com. "Feel Good Light-Ups," a decorative light lens for fluorescent light fixtures, are now so popular there is a dedicated website at http://www.feelgoodlightups.com. Flagpoles and Flagpole Beacons are featured at http://www.flagpolewarehouse.com. Toothpickflag.com has a wide selection of toothpick flags for any occasion, party or corporate event, with a custom department for that one-of-a-kind special design.