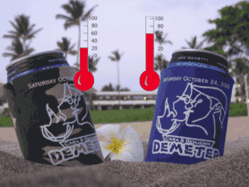 Science Rules, Koozie cools
Raleigh, NC (PRWEB) June 15, 2013
What do you get with two University of Washington scientists and two National Science Foundation Grants? Scientific proof that the famous Koozie can cooler does indeed keep your drink cold.
Kustom Koozies, one of the largest national providers of can koozies is pleased to see hard science prove a concept that has always been considered true.
"Probably the most important thing a beer koozie does is not simply insulate the can, but keep condensation from forming on the outside of it," University of Washington atmospheric sciences professor Dale Durran said in a statement.
Think of boiling water in a teapot, this turns water into water vapor. When the water vapor condenses again into a droplet, it loses that heat, which then warms the surrounding air.
Durran and his colleague Dargan Frierson were interested in finding a good way to demonstrate the power of condensation heating, and and what could be more effective (and useful) than a koozie and a cold beverage. They (and two graduate assistants) have determined that droplets of water forming on a can or bottle can provide way more heat than the surrounding air – so the more humid it is, the harder it'll be to keep your soda cold.
Physics Today, recently published their experiment where Frierson and Durran cooled aluminum cans filled with water at close-to-freezing temperature in an ice-water bath. The cans were equipped with special snap-on tops that kept air sealed in and allowed the researchers to insert a digital thermometer to record the water's temperature.
The cans were then put in a temperature and humidity controlled chamber for five minutes, taken out, and had their temperatures taken again.
It was proven that KOOZIEs kept cans cooler through experiments. When cans were kept at 77 degrees Fahrenheit for five minutes, cans that experienced a relative humidity of about 40 percent heated up by about 39 degrees; at a relative humidity of about 85 percent, the temperature of the water inside the can jumped 44 degrees in the same time period.
"Cold drink cans warm up significantly faster in hot, humid locations than in hot, dry locations -- by approximately a factor of two in typical summertime weather conditions," Durran and Frierson wrote.
Kustom Koozies, a leader in the print and distribution of KOOZIE® can cooler industry, is proud to pass on this information. Now, we need scientific proof that KOOZIEs will make your event more fun.
Source: University of Washington
Kustom Koozies was founded in 1999 in the spare bedroom of the owner's house. Kustom Koozies services over 6,000 customers annually. Kustom Koozies can be found at http://www.kustomkoozies.com. Email us at nancy(at)kustomkoozies(dot)com or "Like" us on Facebook.