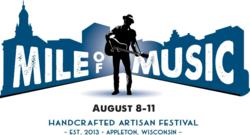 Appleton and Wisconsin have a lot to offer the creative community and this handcrafted, artisan festival will put our potential on display.
Appleton, WI (PRWEB) June 24, 2013
Brand new in 2013, the Mile of Music will kick off in Wisconsin this summer with 100 national, regional and local acts performing their original work live in Downtown Appleton.
Headliners have been announced with Cory Chisel, Rodney Crowell, Justin Townes Earle and Nicole Atkins set to take the stage along with Hillary Reynolds Band, Mel Flannery Trucking Co. and The Candles. VIP tickets for the festival are now on sale.
Cory Chisel, a Nashville-based national recording artist who grew up in Appleton, is leading the event as the music curator and has spearheaded the role of hand-selecting a diverse roster of singer-songwriters and groups to appear. He is also serving as host and will perform both solo and with his band, the Wandering Sons.
The idea behind the Mile of Music is to celebrate original, Americana music and a city that fits its creative spirit while showcasing some of the better-known songwriters in the business as well as up-and-coming artists who are on the road this summer. "Appleton and Wisconsin have a lot to offer the creative community and this handcrafted, artisan festival will put our potential on display," Chisel said.
With most performances offered free of charge from August 8-11, attendees will be able to experience a cover-free zone with a mix of everything from country, gospel and soul to R&B, jazz and folk. Performances will be held at all types of venues across the one-mile, walk-able stretch of Downtown Appleton, including the historic Lawrence Memorial Chapel and the newly-renovated town square, Houdini Plaza. The festival will also give smaller establishments like cafés, bars and coffee houses the opportunity to host live music.
"This festival will showcase Downtown Appleton's vibrant hospitality, businesses, walk-ability, safety and growing creative spirit," said Dave Willems, whose Willems Marketing firm is managing the bold endeavor. "It's exactly a mile through our Americana downtown and we're going to fill it with music."
In addition to the entertainment value this medley of music makers is expected to bring, the festival will also funnel funds right back into the community as event proceeds will be split between two special funds recently established. The first is the Mile of Music Fund set up through the Appleton Education Foundation to fund music programs within the Appleton Area School District. The Creative Downtown Fund has also been organized to provide seed money to artistic-inspired projects in Downtown Appleton.
The Mile of Music is a new artisan festival kicking off in August 2013 that will feature 100 singer-songwriters and bands performing live in Downtown Appleton, Wis. It is a collaborative effort headed up by Nashville-based national recording artist Cory Chisel and organized among several organizations and individuals throughout the Appleton area community. For volunteer, sponsor, ticket or other event information, visit http://www.mileofmusic.com.