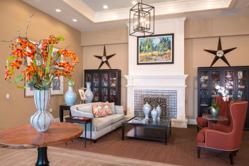 "This is a beautiful new community, and it will be a fitting home for a flag that once flew over the Capitol building." - Captain Ryan Adam, Arlington County Fire Department in Virginia
Huntsville, TX (PRWEB) June 13, 2013
Creekside Healthy Living Community, which is the evolution of the Ella Smither Center, will hold a dedication ceremony for its new location at 1433 Veterans Memorial Parkway, on Flag Day, June 14. The ceremony will include a ribbon cutting with the Huntsville Chamber and the presentation of a US flag from Captain Ryan Adam, a firefighter who was among the first to respond to the Pentagon on September 11, 2001. As a gift from his family, Adam will present the flag which was flown over the US Capitol building in Washington DC. The community plans to display it proudly, along with the Texas State flag.
"We are both honored and humbled by the actions of our first responders, and the presentation of this official US Capitol flag reminds us all of the crucial role they play in keeping our communities safe," said Jim Eillers, Creekside Executive Director. "This flag is a memorable gift that our Creekside community will cherish for years to come."
Adam was stationed at Arlington Fire Department's Firestation No. 1 in Arlington, VA at the time of the attack on the Pentagon. His team arrived on the scene within minutes of the attack and are now featured in many "hero" books.
"It is gratifying to be invited to make the presentation of our nation's flag to Creekside officials and to know of the organization's deep respect for what it symbolizes," said Adam. "This is a beautiful new community, and it will be a fitting home for a flag that once flew over the Capitol building."
The flag display area at Creekside was made possible by a gift from the local Gibbs family.
"The Gibbs family generously provided funds to create the area where the flags will be displayed, including the lighting, concrete pad and the flag poles," said Anne Davis, Vice President of Philanthropy for The MRC Foundation. In their honor this area has been named The Gibbs Memorial Garden.
Creekside now offers catered independent living, assisted living, the area's first and only certified memory support, and skilled nursing. As a "Healthy Living Community," Creekside's care programming combines appropriate assistance with a holistic approach to wellness that cultivates healthy mind, body and spirit.
For more information on Creekside, contact Caroline Erb at 936-661-3021.
ABOUT METHODIST RETIREMENT COMMUNITIES (MRC).
Methodist Retirement Communities is a not-for-profit provider of senior living and health care serving Texas seniors for over 50 years. Currently MRC has nine communities on five campuses which include Huntsville, Lufkin, Bryan, La Porte, and Texarkana. A tenth community is underway in League City. MRC has developed admission criteria without regard to race, color, national origin, religion, sex, handicap, age or political beliefs.