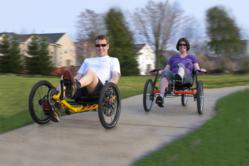 Honestly, we love it when the gas prices soar like this.
Grand Rapids, MI (PRWEB) June 13, 2013
As gas prices reached a record peak in the state of Michigan and across the nation, the Michigan-based company, TerraTrike, released a statement embracing the gas price spike. TerraTrike is the largest manufacturer of three-wheeled recumbent trikes in the world.
"Honestly, we love it when the gas prices soar like this," said Marketing Director Jeff Yonker. "Our phones start ringing off the hook with people ready to ditch their gas-guzzling vehicles and get a TerraTrike instead to commute to work or travel, all to avoid the sticker shock at the pump. So if high gas prices mean more human-powered, non-polluting machines on the road, then we're happy about it."
TerraTrike sells their products - three-wheeled recumbent trikes and riding accessories - directly through their online shop, corporate headquarters in Grand Rapids, MI, and by phone. They also have an extensive dealer network worldwide who provide excellent service and serve as TerraTrike experts for their local communities.
"It's not just us who gets excited about high gas prices - our dealers feel the increased business as well, and are more than happy to introduce folks to the TerraTrike lifestyle," said Yonker.
The company's philosophy is to be "Part of the Solution" by offering a quality American product that allows people to get comfortable exercise and explore their local communities under their own "human power." Over the past few years, TerraTrike has experienced exponential growth in sales and has nearly doubled their staff.
"I think people are hitting their breaking point with these gas prices. Luckily, cities and towns everywhere are getting more commuter-friendly. Riding a TerraTrike to work takes a big strain off a family's budget (as well as their wrists and backs compared to bikes)," said Chief Finance Officer Wayne Oom. "We're proud to make a great product that helps people get active and save money while helping our environment."
About TerraTrike - TerraTrike (WizWheelz, Inc.) is headquartered in Grand Rapids, Michigan and is the largest manufacturer of recumbent trikes in the U.S. The TerraTrike brand has been manufactured for over 16 years and they maintain one of the industry's most extensive sales and support systems, with over 120 distributors and dealers in multiple countries. Product and distributor information is available on the TerraTrike website at http://www.TerraTrike.com, or by calling (616) 455-5988 or (800) 945-9910. Interested dealers or distributors can contact our dealer department at (616) 608-8086.
[Midwest breaks all time record high gas prices - 5/17/3013 - http://www.gasbuddy.com
[Could 2013 gasoline prices hit record highs? - 2/20/2013 - http://www.Usatoday.com