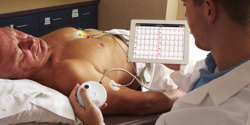 The Spaulding webECG allows rapid assessment of emergent cardiovascular problems.
West Bend,WI (PRWEB) June 13, 2013
It debuted during the conference's fifth annual Innovation Celebration, which took place on June 11th in San Antonio. The event recognizes advances in healthcare while highlighting industry suppliers committed to innovation and improving patient outcomes. Selection criteria included the uniqueness of the product, its ability to have an impact on an unmet medical need and its potential to positively impact patient care.
The Spaulding webECG™ mHealth solution leverages mobile off-the-shelf technology with customized applications to address protocol-driven care. The simplified design of the Spaulding Electrocardiograph makes use in the least expensive areas of treatment, with less skilled users and even patients, possible without sacrificing the diagnostic data that has become the standard for cardiovascular care, the 12-lead ECG. With an Open Systems architecture, interfaces to Electronic Health Records (EHRs), such as our Allscripts interface, are easily accomplished streamlining communication to the care team.
As a direct result of the portability of the system, the focus for the product has been to address patient applications where time-sensitive, protocol-driven care can impact outcomes. "The Spaulding webECG's 12-lead ECG application allows rapid assessment of emergent cardiovascular problems, most critically, ST Elevation Myocardial Infarction (STEMI). To save heart muscle and reduce death or disability, STEMIs must be diagnosed quickly and intervention immediate," states Gary Close, Sr. Vice President and General Manager Medical Products for Spaulding Clinical. " Mobile devices like the Spaulding webECG can be used anywhere to acquire an ECG, transmit directly to rapid response teams, and move the patient to the Cath Lab for more advanced diagnostics and life-saving treatment."
"Those who attend and participate in the Innovation Celebration share Premier's commitment to providing innovative, valuable products to our members that are safe, high-quality and cost-effective," said Durral R. Gilbert, president of supply chain services, Premier. "These advancements will truly benefit providers as they work to improve the health of their communities."
Any supplier, regardless of whether the company is contracted with Premier, can be considered for participation in the Innovation Celebration. Overall, Premier contracts with more than 1,000 suppliers.
About the Premier healthcare alliance, Malcolm Baldrige National Quality Award recipient
Premier is the nation's largest performance improvement alliance of more than 2,800 U.S. hospitals and nearly 100,000 other sites using the power of collaboration and technology to lead the transformation to coordinated, high-quality, cost-effective care. Owned by healthcare providers, Premier operates a leading purchasing network with more than $5 billion in annual savings. Premier also maintains clinical, financial and outcomes databases based on 1 in every 4 patient discharges. A world leader in measurably improving patient care, Premier has the largest performance improvement collaboratives in America, including one in partnership with the Centers for Medicare & Medicaid Services. Headquartered in Charlotte, N.C., Premier also has an office in Washington. https://www.premierinc.com. Stay connected with Premier on Facebook, Twitter, LinkedIn and YouTube.
About Spaulding Clinical Research, LLC
Spaulding Clinical Research, LLC (http://www.spauldingclinical.com) a change agent in the clinical research and medical device industries, is focused on driving perpetual value for their clients through technology and process innovation that delivers speed, unprecedented quality and lower costs.
Spaulding Clinical Research operates a 105-bed clinical pharmacology unit with 96, 12-lead ECG, telemetry beds in West Bend, Wisconsin, USA. The facility is paperless, using a customized Phase I Electronic Data Capture system with bi-directional interfaces to clinical lab, bedside devices and telemetry. Spaulding Biometrics provides full-service biostatistics, data management and medical writing services.
As a Phase I-IV centralized cardiac safety provider, Spaulding Clinical offers project management, expert cardiologist ECG over-read and a complete suite of state-of-the-art equipment provisioning, including the Spaulding webECGTM diagnostic 12-lead ECG Management Solution with the purpose-built Spaulding Model 1000iQ Electrocardiograph.