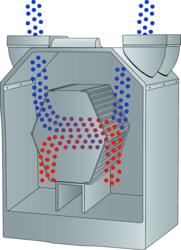 Greenland, NH (PRWEB) June 18, 2013
Zehnder is pleased to announce that it now offers its American Institute of Architects Continuing Education System (AIA CES) and Green Building Certification Institute (GBCI) Credit Learning Course "Heat Recovery Ventilation: Why Efficiency Matters" free online. In the course, industry professionals learn about the role of an HRV/ERV in an energy-efficient building and how to choose an HRV/ERV for a project. With the rise in energy-efficient construction, some confusion has arisen on how to evaluate the most efficient HRV/ERV units for a tight and well insulated structure. The presentation emphasizes the key elements for evaluating efficiency and effectiveness as well as some of the requirements for Passive House Institute (PHI) and Home Ventilation Institute (HVI) certification. The presentation explains how the combination of building tight and ventilating right provides optimal comfort and health for energy-efficient homes and its occupants.
As an important component of an energy-efficient and high-performance home, a high-efficiency heat recovery ventilation system can recover more than 90% of the room temperature and ensures fresh filtered air for the inhabitants year-round. As a result, even during a cold winter day, the incoming fresh filtered air is typically within 2-3 degrees from the inside room temperature.
As homes are becoming increasingly air-tight, proper ventilation is critical for optimal indoor air quality. Air-tight homes not properly ventilated are susceptible to poor indoor air quality as well as mildew and moisture damage. A constant supply of fresh filtered air in the indoor spaces in which we spend more than 70% of our time is important to our health and comfort. With a well designed HRV/ERV system there is an assurance that equal amounts of stale and fresh air will be exchanged and optimal indoor air quality is achieved in the home.
About Zehnder America, Inc.
Zehnder America offers high-efficiency HRVs/ERVs for the North American market to ensure optimal indoor air quality and comfortable living for energy-efficient construction. The Zehnder Novus 300 HRV is the highest efficiency heat recovery ventilation unit in the world (see HVI and PHI Directories of Certified Products). The Zehnder ComfoAir 350 HRV, the most commonly used Zehnder unit in North America, can recover over 90% of the room temperature. Zehnder America is a division of the Zehnder Group, which has 3200 employees worldwide and specializes in advanced heating, cooling, and ventilation solutions. The Zehnder Group has been in business since 1895.