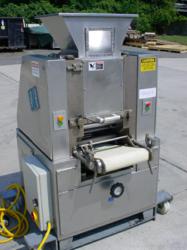 Wohl is constantly investing in our inventory to ensure the largest selection of used equipment for the food, pharmaceutical, cosmetic and chemical industries. With more than 40 years of service, we are a proven leader in this marketplace.
Bohemia, NY (PRWEB) June 13, 2013
Wohl Associates, a trusted leader in the used food processing and packaging machinery industry, is now selling several used industrial pasta machines that were manufactured by Toresani. The inventory of pasta equipment at Wohl includes pasta sheeters, mixers, ravioli machines and tortellini machines.
The largest pasta sheeter at Wohl is a 300mm pasta sheeter. This piece of equipment has a stainless steel hopper and internal mixing arms. The mixing arms and sheeting rolls both have their own motor drives that function independently. This sheeter also has a conveyor belt for handling finished products.
Wohl Associates also has a 120mm ravioli machine for sale. This machine comes with a filling canister and depositor, and it also has 2 dies included with it (a 2-up and a 1-up die). The 120mm machine can process approx. 60 lbs of product per hour.
This company has a used continuous pasta mixer in its inventory that measures approx. 34" wide x 78" long. This machine has two 5hp agitator drives and a 1.5hp peristaltic egg pump. It is operated from a stainless steel control panel that is mounted to its side. There is a slide gate discharge on this machine at a height of approx. 80 inches.
In addition to used machinery from Toresani, Wohl Associates also has industrial pasta equipment from companies like Buhler, Cavatelli, Lombi, Saima, and Moriondo.
Wohl Associates has been a supplier of refurbished food processing and packaging equipment for more than 40 years. They offer reliable equipment, exceptional customer service, and invaluable knowledge to a variety of companies in the processing and packaging industries.
Their pre-owned inventory of used pharmaceutical equipment, colloid mills, stainless steel tanks, industrial coffee equipment, used ribbon blenders and other refurbished equipment, provides companies with an economical solution when the time comes for expansion.
About Wohl Associates
Wohl Associates is a leading dealer in the used processing and packaging machinery industry. With a history and solid reputation spanning over 40 years, they have earned the trust of their clients by offering quality pre-owned equipment, expert customer service and invaluable knowledge to their customers. They treat each customer on an individual basis and customers are provided the highest level of service. With a large inventory including cartoners, ribbon blenders, stainless steel tanks, unscrambling tables, colloid mills and vitamin manufacturing equipment.
Wohl Associates has the pre-owned machinery to fit any production line. To view their inventory and learn more, visit them at http://www.wohlassociates.com/.