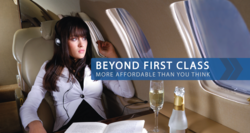 With over 221 million passengers passing through UK airports in 2012, longer waiting times are creating demand for an alternative way to travel
(PRWEB UK) 13 June 2013
The London based Lux-Jet business offers seriously affordable seats on weekly scheduled private jet flights to destinations like Cannes, Ibiza and Palma on their private jet share website, which helps business people and holiday makers the chance to avoid the hassles of lengthy queues at airport security and enjoy the luxury of private jet travel previously considered a privilege of the super-rich.
With over 221 million passengers passing through UK airports in 2012, the rise in passenger numbers according to the civil aviation authority was up by 0.6% versus 2011. The growth in numbers will continue to put pressure on Britain's national airports, meaning travellers may be forced to endure longer waiting times at immigration controls and security checks. The queues combined with delayed flights can cause stress and frustration and turn the start of a special holiday or important business trip into a miserable experience.
It's these issues that are creating a demand for an alternative way to travel that Lux-Jet are keen to fulfil. Scott Nicholas, a seasoned business traveller himself and Managing Director of the exciting private jet share venture share's his vision for Lux-Jet. "In the modern day pressured world we live in, time is money. Holiday makers want to eke every last minute of pleasure from their precious annual leave, starting with the journey from and to their destination and business people need to maximise their travel time. My aim is to establish a really simple business that offers people the chance to fly by private jet share for the same cost of a business class seat."
In addition to matching the cost of a business class seat, there are more fringe benefits to flying by private jet share versus what a chartered airline offers. The chance to arrive just 15 minutes before the scheduled flight time, private jet travellers can use the VIP terminals and luxury lounge areas bypassing airport hassles, queuing and delays.
On arrival to their chosen destination, passengers get to use the VIP terminal lounges at Ibiza, Palma and Cannes with VIP transport to and from the Lux-Jet Cessna Citation jet. Scott adds, "What's fantastic about the private jet sharing experience is you may find yourself sharing the jet with other like-minded individuals, whether it's a couple on their dream honeymoon, a celebrity DJ or someone spending a weekend on their yacht, you never know what chance encounter or introduction a Lux-Jet flight may provide."
With a no-nonsense approach to seat prices, the lack of complicated seat sharing price structure or last minute prices changes is refreshing. Unlike other private jet share, Lux-Jet offers seats on weekly routes at really compatible times making the organisation for a weekend or 7 day break so much easier. With one-way seat prices to Palma starting from £700, the full luxury experience of private jet travel is more affordable than ever before. Visit Lux-Jet today, membership is free and flying by private jet is only a few clicks away.