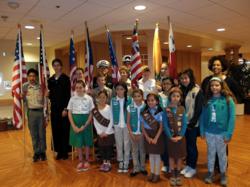 San Francisco, CA (PRWEB) June 14, 2013
The official history and presentation of the flag was presented by San Francisco Elks Lodge officers, the Sea Scouts of San Francisco, Boy Scout troop 343 and Girl Scout troop 49900. Afterwards, the scouts and Elk volunteers cooked and served a BBQ lunch for all the veterans and staff at the hospital - serving over 150 hot meals. The scouts and volunteers spent time with the men and women in the hospital - many of whom have been residents for some time.
The San Francisco Elks, San Francisco Sea Scouts, Boy Scout Troop 343 and Girl Scout Troop 49900 have long been partners in providing services to Veterans at the Medical Center. In addition to Flag Day, the groups visit again on Veterans' day to provide entertainment and cooked meals for the residents.
Says Sea Scout Quartermaster and Elk Member, Steven Welch: "It is great to see two groups with similar values come together to honor people who have given so much for our country. The Scouts have an opportunity to really make an impact when they visit Ft Miley, while earning merit badges and awards within the scouting organization."
Chuck Ramser, VP of the Elks Lodge was in charge of coordinating the ceremony and cookout this year. Says Ramser: "The Veterans have always been an important group to the Elks and I'm very proud to be part of an organization who support those who have served our country. The overwhelming success of this event is just a small demonstration of how impactful our historic organization is in the community."
Leading the ceremony was President of San Francisco Elks Lodge, Nasir Shakour. Says Shakour: "Our Lodge has a long history with Ft. Miley and the Veterans here. Visiting here each year has always been one of the most memorable occasions to me in my years as an Elk. I think it is efforts like this that led to me becoming an officer of the Lodge and striving to make a greater difference for our Lodge and those we help."
Flag Day is of particular importance to the Benevolent and Protective Order of Elks (BPOE). As a distinctively American order, the Elks adopted June 14th as Flag Day in 1907. In 1916, the a member of the Elks, President Woodrow Wilson issued a proclamation that nationally established June 14 as Flag Day. In 1949, National Flag Day was officially established by an Act of Congress.
You can learn more about the San Francisco Elks Lodge and how you can get involved at sfelks.org.
The San Francisco VA Medical Center was established in 1934. You can learn more about how to volunteer or donate at the Medical Center on their website.