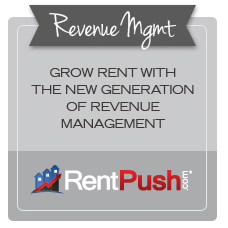 What once often took days to accomplish can now be done in a matter of minutes-Lori Graham, Property Manager
Dallas, Texas (PRWEB) June 13, 2013
RentPush.com® div of Spherexx.com is a new addition to a short list of revenue management software service providers especially designed for the apartment industry. The science-based program was in production for years by an impressive host of contributors, including Becca Wilson, President and CEO of Spherexx.com, former IT Director and Assistant Controller for a large property management and investment company. Ms. Wilson was recently recognized by the Institute of Property Management (IREM) as one of their selected "Women Changing the World of Real Estate" in 2013. Other team members are a PhD in Operations Management and Computational Intelligence, MA of Economics, MA of Computer Science and Finance, Multifamily Information Technology Director, two IREM Certified Property Managers, Asset Manager, Real Estate Agent, Leasing & Management Training Consultant, and a pool of talented programmers.
RentPush.com launched late September 2012 at Creekwood Place Apartments, managed by Elevate ROI, LLC—not at the perfect time to initiate a revenue management system since it was the beginning of winter. However, improvements were noticeable in a relatively short time despite the traditionally slow season.
During the ensuing six months, total occupied rent increased by 6.94% and occupancy rose by 5%. Concessions were reduced by 94.54%: an important aspect of revenue management because concessions are severely discouraged since the algorithm calculates demand factors into the individual unit pricing matrix.
Outside of its basic algorithmic functions, RentPush.com engulfs some broader perspectives than its predecessors. It focuses attention also on amenity based pricing as opposed to broad based, roll up comparable rates. This requires the setup to be very accurate and refined.
"We have noticed that some owners and operators have lost value in their communities as a matter of just losing perspective. They have forgotten many of the attributes that make each apartment unit unique, and therefore, enhanced in value," says Wilson.
RentPush.com has no portfolio limitations, any size property can subscribe. It also provides an interactive pricing presentation that allows apartment shoppers to toggle between leasing options such as type, date of occupancy, term of lease, while viewing floor plan, location and unique selling features online. This saves a great deal of confusion for both the leasing professionals and prospects when visiting the community's leasing center. For anyone who has booked an airline ticket online, one can imagine how difficult it can be to review so many pricing options for such a highly committed commodity.
"One of my favorite aspects of RentPush.com is the renewal program. There is no longer any guesswork involved in determining renewal rates and terms, and residents appreciate the fact that they are given multiple choice. What once took days to accomplish can now be done in a matter of minutes," says Lori Graham, Property Manager. RentPush provides a way for residents to renew leases online, via email.
Additional features new to revenue management services is the valuation tool, return on investment trajectory, upgrade feasibility analysis, optional due diligence and commission calculator, which spares multiple managers many work hours. The online make-ready module keeps upper management, onsite and maintenance personnel apprised of vacancy condition and scheduling. Maintenance personnel can update the unit's condition via mobile phone and manage contractors.
Sophisticated reporting bridges location gaps and compresses the most pertinent data in summary form that is easily shared. RentPush also offers pricing management services with highly qualified and distinguished pricing analysts.
About Spherexx.com—Ad Agency | Software Development | Data Centers
Established in 2000, Spherexx.com is recognized as an established leader in the apartment industry website, Internet marketing and software development services. With offices located in Tulsa, Dallas, Austin, and Houston, the company has been distinguished as one of INC5000's fastest growing companies. Spherexx.com is a recipient of the International Summit Creative Award 2012 for creative and communication excellence.
Spherexx.com offers a wide selection of professional services including web design and development, touch-screen kiosks, Internet lead generation tools, online advertising, apartment leasing consulting, advanced mobile technology, apartment lease-up marketing consulting, and search engine performance. The company also provides branding services, video/multimedia production, print media, and copywriting as well as website and email hosting, database solutions, pay per click, e-commerce solutions and custom programming.
Spherexx.com has developed CRM (customer relationship management) products, marketing and lead generation tools that allow clients to better manage and convert leads to leases and sales. These applications are branded under Messagekast.com, ILoveLeasing.com, MarketSurveyTools.com, and RentPush.com. Spherexx.com provides web-based prospecting, marketing, advertising management, and support services.
Spherexx.com has provided services to innovative real estate companies like Abacus Capital Group LLC, America First Properties Management, Atlantic Pacific Companies, Block Real Estate Services, LLC, CompassRock Real Estate, Matrix Investment Group, Orion Real Estate Services Inc., The Richman Group of Companies, and ZRS Management. The company represents over one hundred years of direct, executive level property management experience that readily identifies with the challenges and solutions of multi-family property management professionals.