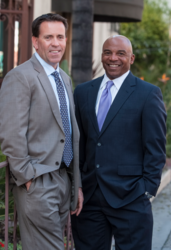 The final verdict totaled $3.7 million, with monetary compensation awarded for medical expenses (both past and future) and lost wages (also past and future).
Santa Ana, California (PRWEB) June 18, 2013
In a case involving two motor vehicles and cyclist heard in Range County Superior Court-Santa Ana; Case Number 30-2012-00539759, the Orange County injury law firm of Gibson & Hughes was recently able to secure a multi-million dollar judgment on behalf of the cyclist who was injured by one of the vehicles as he waited on a sidewalk.
According to the facts, the client cyclist, Omar Bermudez, stood with his bicycle on the wheelchair apron of a sidewalk waiting for the traffic signal at Talbert and Bushard to change so that he could cross. As he waited for the signal, the driver of a 2002 Toyota Highlander, identified as defendant Heacox, was traveling eastbound on Talbert when another driver, identified as defendant Ciolek, traveled westbound on Talbert. As defendant Ciolek attempted to make a left turn from Talbert onto southbound Bushard, she struck the 2002 Toyota Highlander in the intersection, causing defendant Heacox to lose control of the Highlander that traveled onto the wheelchair apron where plaintiff Bermudez waited with his bicycle to cross. The impact from the Highlander was so great, that plaintiff Bermudez became pinned by the vehicle against a wall.
Defendant Heacox claimed that he entered the intersection on a yellow traffic signal while traveling at approximately 50 miles per hour, five miles over the posted speed limit. Defendant Ciolek claimed that she initiated her left turn into the intersection after the traffic signal had turned red, and after the intersection appeared clear.
With both defendants claiming to have had the right of way, plaintiff Bermudez was in the legal position of not knowing exactly who caused the accident and, therefore, who would be responsible for damages. The jury, in a 12 to 0 decision, found defendant Ciolek, the party which attempted the left turn, to have been at fault, and awarded judgment for plaintiff Bermudez against defendant Ciolek.
The final verdict totaled $3.7 million, with monetary compensation awarded for medical expenses (both past and future) and lost wages (also past and future). Past general damages were compensated to the tune of $2 million, and future medical damages were awarded for $725,000.
This recent ruling is only one in a long line of judgments that Santa Ana injury law firm Gibson & Hughes has been able to secure on behalf of the firm's clients. The firm handles a variety of personal injury claims, which include those arising from car accidents, bicycle involved accidents, pedestrian involved accidents, workplace accidents, boating and watercraft accidents, swimming pool accidents, medical malpractice, and more. The firm has several years of experience representing victims of injuries ranging from dog bites to traumatic brain injuries. No matter how an injury is sustained and no matter how severe the injuries may be, the team of Gibson & Hughes represents each and every one of its clients throughout the entire legal process with professionalism and diligence.
If they have been injured in an accident, injury victims are encouraged to speak with experienced Orange County personal injury lawyer about their potential case. Statistically, individuals who pursue personal injury damages with the help of a Orange County injury attorney are more likely to recover the damages owed than those who try to recover damages on their own.
For media inquires, contact Andy Stickel of law firm marketing agency Social Firestarter at Andy(at)socialfirestarter(dot)com.