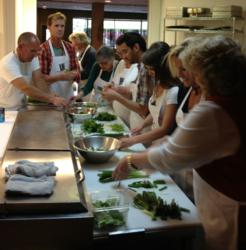 It's just food. If you don't like it, throw it out and start again. Or, order a pizza!
Tulsa, Oklahoma (PRWEB) June 14, 2013
Chef Candace Conley, The Girl Can Cook at Urban Kitchen on Cherry Street, added another hat to her chef's toque with the recent publication and signing of her cookbook. "Cooking without a Parachute: Fearless cooking from my kitchen to yours" is a compilation of favorites from her popular cooking classes and her mother who was Chef's inspiration for all of her cooking.
During the book signing, guests were able to tour Urban Kitchen, sample recipes from the cookbook as well as have their book signed and visit with Chef Candace.
One of the guests posted on Facebook, "Had a WONDERFUL time!! The treats were delish and I can't wait to cook my way through your cookbook!! Thank you, Candace, for sharing your love of cooking!"
Urban Kitchen is a recreational cooking school located in historic Cherry Street in Tulsa featuring hands-on experiences in a professional kitchen. In her classes, Chef Candace shows students how they can leave their "recipe following" behind and cook fearlessly by focusing on the importance of fresh ingredients and cooking methods. Cooking fearlessly means not being afraid to experiment with food, flavors and ways of doing things.
The evening was such a success, Chef Candace is planning Open Houses for the Fall and Holiday seasons as well.