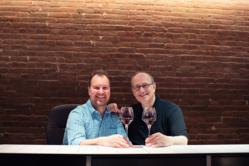 Everything we do, every system we've created, is geared to showcase each wine's virtues.

- F. Paul Pacult
New York, NY (PRWEB) June 13, 2013
Ultimate Beverage Challenge® (UBC), is proud to announce the results of the annual Ultimate Wine Challenge® (UWC) held at Astor Center in New York City on June 3-7, 2013. With a record 800+ wine entries this year – up 10% over last year - 39 superior wines received the highest score in their category and were awarded the Chairman's Trophy. Scores of wines were named Finalists and many rated "Great Values" based on their score-to-price relationship, which shows that a great tasting wine doesn't have to cost a fortune. All wines rated 80+ are listed in the results and all wines rated 85+ include tasting notes. Full results available at http://www.ultimate-beverage.com/UWC2013Results
UBC founder/Judging Chairman F. Paul Pacult, UBC partner/Judging Co-Chairman Sean Ludford and 15 of the world's foremost wine buyers, authors, journalists and sommeliers, including six Masters of Wine, tasted, assessed, debated, reviewed and scored the entries using UWC's innovative multi-round judging system and the consumer-friendly 100-point rating scale. In accordance with UWC service policy, all wines were judged in appropriate fine crystal glassware and grouped in small flights of 3 to 7 wines according to grape type, region and price. The judges did not know the identity of any of the entered wines in order to ensure unbiased evaluations.
UWC 2013 judges were: Christy Canterbury, MW; James Conley; Mary Ewing-Mulligan, MW; Doug Frost, MS, MW; Debbie Gioquindo; Mary Gorman-MacAdams, MW; Ed McCarthy; John McClement; Jean K. Reilly, MW; Jack Robertiello; Patricia Savoie; Jennifer Simonetti-Bryan, MW and Tara Q. Thomas.
Said Pacult of UWC 2013, "The dramatic increase in participation again this year from wine producers from five continents serves as a clear affirmation of Ultimate Beverage Challenge's meticulous detail to methodology, recognized authority and uncompromising integrity. In short, everything we do, every system we've created, is geared to showcase each wine's virtues."
Top scoring wines will be published in the Ultimate Beverage Challenge 2013 Guide to the World's Best Wine & Spirits in Beverage Media (October 2013 issue), which goes out to 60,000+ beverage alcohol buyers in the United States.
For downloadable, behind-the-scenes images of UWC, go to: http://www.ultimate-beverage.com/2013UWCpics
2013 Ultimate Wine Challenge Chairman's Trophy Winners
Full results at http://www.ultimate-beverage.com/UWC2013Results
RED WINES:

Basel Cellars Pheasant Run Vineyard Syrah 2007 Walla Walla, United States (Shiraz/Syrah – World)
Bodegas Regina Viarum Mencia 2011 Ribeira Sacra, Spain (Other Red Varietals – World)
Brazin (B)Old Vine Zinfandel 2010 Lodi, United States (Zinfandel – USA)
Capafons-Ossó Sirsell 2007 Priorat (DOC), Spain (Red Blends – Europe)
Finca Las Moras Black Label Malbec 2011 San Juan, Argentina (Malbec – World)
Handley Cellars Pinot Noir 2009 Anderson Valley, United States (Pinot Noir – World)
J. LOHR Tower Road Petite Sirah 2011 Paso Robles, United States (Petite Sirah – World)
Malibu Vineyards Cabernet Franc 2010 Western Malibu, United States (Cabernet Franc – World)
Marqués de Riscal Rioja Reserva 2007 Rioja (DOC), Spain (Tempranillo – World)
Nitty Gritty Cabernet Sauvignon 2011 Napa Valley, United States (Cabernet Sauvignon – World)
Noble Vines 181 Merlot 2011 Lodi, United States (Merlot – World)
Poli Phonia Reserva Red Blend 2011 Alentejo, Portugal (Assorted Reds – Portugal)
Ross Wines Tier 1 2006 Barossa Valley, Australia (Red Blends – Southern Hemisphere)
Ruffino 2011 Chianti Classico (DOCG), Italy (Sangiovese – World)
Sequoia Grove Cambium 2008 Napa Valley, United States (Red Blends – North America)
WHITE WINES:
Albanta Albariño Bodegas Altos de Torona Albariño 2011 Rias Baixas, Spain (Albariño – Spain/Alvarinho – Portugal)
Drassanes White 2012 Valencia, Spain (White Blends – Europe)
Dr. Konstantin Frank Pinot Gris 2011 Finger Lakes, United States (Pinot Gris/Pinot Grigio – World)
Dr. Konstantin Frank Semi-Dry Riesling 2012 Finger Lakes, United States (Riesling – World)
Harbor Town Sauvignon Blanc 2012 Marlborough, New Zealand (Sauvignon Blanc – World)
Handley Cellars Gerwurztraminer 2012 Anderson Valley, United States (Gewurztraminer – World)
Lobo Wines Wulff Vineyard 100% Estate Chardonnay 2011 Oak Knoll District, United States (Chardonnay – World)
Quails' Gate Estate Grown Chenin Blanc 2011 Okanagan Valley, Canada (Chenin Blanc – World)
Solista Verdelho 2012 Alentejo, Portugal (Other White Varietals – World)
Two Oceans Moscato 2012 Western Cape, South Africa (Muscat – World)
ROSE WINES:
Le Caprice de Clementine Les Valentines 2012 Cotes-de-Provence, France (Rosé – World)
CHAMPAGNE/SPARKLING WINES:
Domaine Carneros by Taittinger Cuvée de la Pompadour Rosé NV Napa Valley, United States (Sparkling – USA)
Moet & Chandon Imperial Brut NV Epernay, France (Champagne – France)
Rotari Talento Rosé NV Trento DOC, Italy (Sparkling – World)
DESSERT WINES/CIDER:
Feudo Arancio Hekate Passito 2009 Sicily IGT, Italy (Sweet White Wines – World)
Vermont Ice Cider Apple 2011 Vermont, United States (Cider – North America)
Whistler Icewine Diamond Estates Vidal Blanc 2011 Niagara Peninsula, Canada (Ice Wine – World)
APERITIFS:
BarSol Perfecto Amor 2010 Ica, Peru (Aperitifs – World)
FORTIFIED WINES:
Barbadillo San Rafael Oloroso Dulce NV Jerez-Xeres-Sherry, Spain (Sherry - Spain)
Cockburn's 10 Year Old Tawny Port NV Douro, Portugal (Porto - Portugal)
SAKE:
Hiro Sake Junmai Sake NV Murakami, Niigata, Japan (Junmai – World)
Hiro Sake Junmai Ginjo Sake NV Murakami, Niigata, Japan (Junmai Ginjo – World)
Nichiei Junmai Dai-Ginjo Sake NV Ishikawa, Japan (Junmai Dai Ginjo – World)
Shirakawago Sasanigori Nigori Sake NV Gifu, Japan (Nigori – World)
Ultimate Wine Challenge…like no other competition and doesn't want to be.
ABOUT ULTIMATE BEVERAGE CHALLENGE
Ultimate Beverage Challenge (UBC) provides expert evaluation of wines and spirits for producers, importers and marketers through its two innovative annual competitions – Ultimate Spirits Challenge and Ultimate Wine Challenge. Based on exacting standards, expert judges and rigorous methodology, UBC raises the standards of spirits and wine evaluation and supplies ratings and accolades to help companies build their brands with buyers, both industry and consumer. UBC partners are F. Paul Pacult, Sue Woodley, Sean Ludford and David Talbot. Challenge results from 2010 – 2013, event photos, videos and press coverage at http://www.ultimate-beverage.com.
Ultimate Beverage Challenge inquiries: info(at)ultimate-beverage(dot)com, 1-347-878-6551
Facebook: http://www.facebook.com/UltimateBeverageChallenge
YouTube: http://www.youtube.com/user/ultimatebeverage