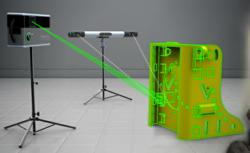 Innovation is a core value at Gerber and is something that we have been keenly focused on.
Tolland, Conn. (PRWEB) June 13, 2013
Gerber Technology received the highest level award for product innovation from the Connecticut Quality Improvement Award (CQIA) Partnership, Inc., an affiliate of the Malcolm Baldrige National Quality Award. The award was presented to Gerber for its Iris™ Spatial Positioning System, launched in December 2012. The IRIS Spatial Positioning System, designed and engineered by Virtek Vision International, an Ontario, Canada-based business of Gerber Technology, employs lasers to guide welders through the assembly process.
"We are honored to receive this prestigious award," said Mike Elia, president and CEO of Gerber. "Innovation is a core value at Gerber and is something that we have been keenly focused on – particularly since I became president last year. Gerber serves market segments from apparel to aerospace, and has been delivering design and manufacturing automation solutions to customers around the world for nearly five decades. With Iris, we are able to further expand our market reach by offering leading-edge technology."
Iris is designed for companies that manufacture heavy machinery, like earth moving equipment (excavators, mining trucks), locomotives, ships, and other large-scale products. Users report significant improvements in product quality with dramatic reductions in assembly rework typically caused by human error, a three-fold improvement in productivity, improved worker safety and reduced costs due to the elimination of physical templates and non-value-added steps.
Todd Rhodes, vice president and general manager of Gerber's Virtek Vision business, said, "Iris is a game changer for manufacturers of highly-engineered, low-volume, highly-tooled products. In addition to cost savings, productivity and worker safety improvements, Iris ensures quality because the product is always manufactured as it was designed – because design changes flow through to manufacturing in hours rather than weeks."
The Connecticut Quality Improvement Award Partnership, Inc., America's first state-level quality award, was founded in 1987 using the Malcolm Baldrige National Quality Award for Performance Excellence criteria in an effort to advance innovative programs that improve quality, performance excellence and marketplace competitiveness. Applications are assessed based on rigid quality standards set by Baldrige-trained examiners.
About Gerber Technology
For more than four decades, Gerber Technology has been the world leader in providing sophisticated hardware and software systems to automate and more effectively manage product design and manufacturing processes. The company serves 25,000 customers, including more than 100 Fortune 500 companies, in the aerospace, apparel, retail, composites, packaging, furniture, technical textiles and transportation interiors industries in 130 countries.
Based in Connecticut, USA, Gerber Technology is owned by Vector Capital, a San Francisco-based, global private equity firm specializing in the technology sector that manages more than $2 billion of equity capital. Visit http://www.gerbertechnology.com for more information.
About Virtek Vision
Virtek Vision International Inc., of Ontario, Canada -- a Gerber Technology business – is a leader in providing laser templating, quality inspection and spatial positioning technology for aerospace carbon fiber composite part assembly, welded assembly, sheet metal part fabrication and construction markets. The company serves the world's top 10 aerospace companies, among others. Visit http://www.virtek.ca for more information.