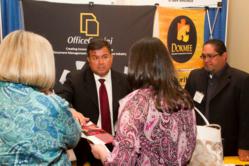 (PRWEB) June 13, 2013
EventEvolution Management Inc. has developed market focused events that strive to deliver high educational value. While allowing buyers and sellers the ability to interact in creative and cost effective environments that is conductive to doing business. EventEvolution Management Inc. is an event producer, management and consulting firm specializing in professional trade shows and conferences. EventEvolution works hand-in-hand with partners to produce world-class events. EventEvolution partners with DOCUMENT, the multi-media source focused on strategies and customer communications. Business Forum Management Association (BFMA) was formed to address the unique educational and networking needs of forms designers and managers. The forms function is to include everything from traditional paper forms to electronic data capture and the applications to support it.
One of the events that recently transpired was the Document Strategy Forum featuring the Social Business & SharePoint Conference and co-located with the BFMA Annual Conference. This Forum turned out to be the largest event recorded. With 311 verified attendees and an additional 125 exhibitors including 13 first time additions. One of the first time attendees stated: "This was our first time exhibiting at the Document Strategy Forum, and it exceeded our expectations. We are very excited about attending next year" explained Errett Thomas Jr., Director of Sales, Ecrion Software.
The benefits of attending these kinds of Forums, that are event specific, are to educate and connect different departments together in order to optimize at their highest potential. The sessions range from intense power sessions and case studies to panel and roundtable discussions. All geared to providing customer communication professionals with tactical and mission-critical strategies and solutions to enhance their organizations overall ease of doing business. Attending shows/conferences such as Document Strategy Forum allows companies to learn different ways of conducting their businesses effectively.
About Office Gemini:
Office Gemini is an international software manufacturer focused in the document management and document scanning industry. Office Gemini distributes its software products through a vast worldwide network of value-added resellers (VARs). From great software products and implementation assistance to strategic document management and scanning consulting services, we are able to provide a wide range of services to our end users and VARs equally. Our sales and support specialists are not only experts on our own software products, but are also very knowledgeable about the industry as a whole and can help with complementing software and hardware products. The flagship software Dokmee is used by thousands of customers in more than 30 countries and is available in 8 languages. Office Gemini is headquartered in Houston, Texas and has offices in Europe and Brazil. For more information on Dokmee and office Gemini, please visit http://www.dokmee.net/ and http://www.officegemini.com/.