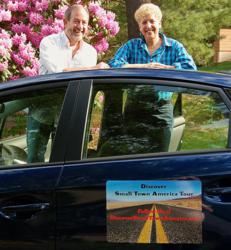 Shining a spotlight on amazing people doing extraordinary things in off-the-beaten-path places
Longboat Key, FL (PRWEB) June 13, 2013
America. Small Town America. We know this familiar place. We fly over it from one airport to another. We drive by it on the Interstate. But, do we really know it? Probably not.
The Discover Small Town America Tour (DSTA), launching on June 16, is going to help people across the Country get to know the real small town America a whole lot better. This 8,000 mile cross-country "expedition" will search for extraordinary people doing amazing things, sometimes in off-the-beaten-path places.
"There are more than 30,000 small towns in this Nation and, though they're often not on media's radar, many have powerful, inspiring stories to tell ", says Bart Russell, Founder of Everything Small Town – sponsor of the DSTA Tour. Most Americans think small towns are just dots on a map. But Russell, and his wife and DSTA co-creator Rorie, couldn't disagree more. They're travelling the Country's rural byways and back roads to bring those dots to life and spotlight places where remarkable and, sometimes, just plain fun things are happening:

Plainville, KS (population 1,903) invited the DSTA Tour to experience the amazing story of this place "in the middle of nowhere" and meet Chuck Comeau, owner of Dessin Fournir Companies - luxury furniture maker "of the stars" (e.g., Oprah, Elton John, Janet Jackson and others). Chuck moved his headquarters from Los Angeles back to his hometown of Plainville and is leading a transformation of "Main Street" so compelling that the National Trust for Historic Preservation has honored his efforts.
Lucas, KS (population 322) wants the Tour to visit the town, which has what folks there say has the "blingiest public restroom ever".
The Discover Small Town America Tour will feature these and many other "jewels of the countryside": a small town with a highly-rated B&B located in the middle of a cornfield; another which locals argue has the best homemade bagels in America; a place that's said to be the birthplace of the inventor of the traffic light; and, a community of 230 people called by one big city newspaper "a town of doers."
Bart and Rorie Russell aren't newcomers to the big world of small towns. They're both veteran small town boosters and road trip junkies. Bart is a leading authority on the Nation's small communities and their 120 million residents. President Reagan called him "the voice of small town America". Rorie has logged thousands of miles searching the countryside for special people and places. Her recent discovery and promotion of Jose's Real Cuban Food in Bradenton, FL won Jose Baserva and his "joint" a spot on The Food Network's "Diners, Drive-Ins and Dives".
Join the Russells on the Tour as virtual members of the DSTA road crew at DiscoverSmallTownAmerica.com