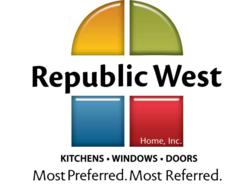 We see fathers working hard to provide a better life for their families, and we understand that every dollar saved can help ease the pressure of this responsibility.
Phoenix, AZ (PRWEB) June 13, 2013
Republic West Home announces that they will be offering fathers a break from difficult installation jobs this month with discounted prices of just $59 for window installations and $99 for cabinet installations, in honor of Father's Day. As many do-it-yourselfers have discovered, window and cabinet installations are among the biggest challenges to homeowners, but also the most worthwhile since these projects often add value to a home and quickly pay for themselves. Plus, upgrading windows is an economical way to make homes more energy efficient. Now, with lower installation costs during the month of June, fathers can get a break from the grueling installation process but still enjoy the long-term benefits of the improvements.
Linda Zimmerman, Vice President of Republic West Home, explains, "We see fathers working hard to provide a better life for their families, and we understand that every dollar saved can help ease the pressure of this responsibility. That's why we decided to offer this discount."
Replacement windows are a smart way to save on energy bills this summer, especially for older homes. The intense southwestern sun poses challenges that Republic West Home has tackled. One solution is "Solar Tuning," a special process unique to Republic West Home, used to determine the best glass type for each window based on sun exposure. Solar Tuning can maximize a home's use of natural energy and light, and it is performed for all window replacements. Now, access to these money-saving windows is more affordable with $59 installations, and a small weight can be lifted from Dad's shoulders.
Republic West Home understands that when Dad is having a long day at work, dinner with family is the light at the end of the tunnel. The kitchen, the heart of the house, deserves to be in top condition. Renovating a kitchen is one of the largest projects a homeowner can undertake, and Republic West Home has tackled these challenges as well. Cabinets take plenty of wear and tear over the years, suffering from dents and peeling paint in addition to run-down hardware. Cabinets from Republic West Home can add value to a home because of their improved storage space and usability. Dads will receive a break from the heavy lifting involved with mounting cabinets, and the tedium of taking measurements which must be precise in cabinet installations. Republic West Home will give customers the look they desire with their wide selection of styles and surfaces so Mom will be happy too.
These discounts are a tribute to the fathers who put a roof over their families' heads and maintain their home in their spare time. Replacing or updating parts of a home is an inevitable necessity as most homeowners quickly discover. Republic West Home aims to be a reliable resource for home improvement needs.
Republic West Home is offering these discounted installation prices until June 30, 2013.
About Republic West Home:
Republic West Home is a company that stands for quality, honesty, and the best value. Our vision, in an industry often lacking ethics and reliability, is to deliver the best home improvement experience possible—before, during, and after your home remodeling project.
To achieve this, an extensive team of professionals was put in place: employees driven to make the home improvement experience a great one for you, our customers. The formula works and the pleasant experiences we create for our customers have paid off. In an industry where repeat business averages less than 5%, Republic West Home and our 15,000+ clients generate an amazing 50% of our business from previous customers and referrals.
For additional information, please call 480-423-9300 or visit http://www.republicwesthome.com.
Media Contact:
Jason W. Jantzen
Phoenix Marketing Associates
http://www.PhoenixMarketingAssociates.com
602-282-0202