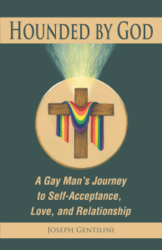 Christian imagery fills the journal entries, illuminating the author's deep faith in God.
Hilliard, OH (PRWEB) June 13, 2013
Growing up in the 1950s, '60s and '70s when homosexuality was considered a mental illness or a major sin left emotional scars on Joseph Gentilini, who began writing journal entries about his experiences as he grew older. This new autobiography describes Gentilini's struggle to integrate his homosexuality with his Catholic-Christian spirituality and personality. Daily Mass and years of therapy can't overcome his feelings of shame and repression, and he considers suicide. Gentilini experiences a life-changing moment in 1977: God talking to him with words of love about accepting himself.
"Hounded by God: A Gay Man's Journey to Self-Acceptance, Love, and Relationship" reveals the author's gradual awakening from shame to living his life fully and helping others who struggle with their faith and homosexuality. Growing up as a Catholic, Gentilini – who had his first homosexual encounter in 1968 – confessed his sins to a priest and underwent gay reparative therapy, which proved an unsuccessful approach. Already downtrodden by his parents' rejection of his homosexuality and requests to change, Gentilini also feared what God thought of him. In Gentilini's final year of college, he began writing self-reflective journal entries. This autobiographical book shares some of those entries, grouped by theme rather than chronological order.
Gentilini describes journaling as an integral part of his life, having kept a journal for more than 40 years. In fact, he writes that it is a part of his prayer life. Christian imagery fills the journal entries, illuminating the author's deep faith in God. "I think that the cross in my images represents my homosexuality, which is the place of my deepest wound," he writes of his mother's failure to talk about his orientation. His faith and guidance from a spiritual director who befriends his mother pays off years later when his parents invite his partner, Leo, to the family Christmas celebration. As he writes, "My prayer has been answered. For years, I have prayed for reconciliation with my family. It is grace, a total gift from God." Meeting Leo in 1981 answers another prayer for Gentilini, and his entries about Leo prove to be one more avenue to faith. "Leo has helped me to accept more deeply that I am lovable, that he loves me, and that God also loves me."
Author Joseph Gentilini was born in 1948 Columbus, Ohio, and attended the same Catholic elementary school as his future spouse, Leo Radel. Gentilini worked for the state as a vocational rehabilitation counselor, helping people with severe disabilities become more independent, after he earned an undergraduate degree in social welfare from Ohio Dominican College (now University). He went on to earn his master's degree in counseling and guidance from The Ohio State University and a doctorate in the same field from Ohio University in Athens, Ohio. The licensed professional clinical counselor and certified rehabilitation counselor retired in 2003 from the state. Gentilini and Radel are active members of DignityUSA.
----------
For additional information, please visit http://www.JosephGentilini.com.
Hounded by God: A Gay Man's Journey to Self-Acceptance, Love, and Relationship
Joseph Gentilini
Dog Ear Publishing
ISBN: 978-1-4575-1961-1 180 pages $13.99 US
Available at Ingram, Amazon.com, Barnes & Noble and fine bookstores everywhere.
About Dog Ear Publishing, LLC
Dog Ear Publishing offers completely customized self-publishing services for independent authors. We provide cost-effective, fast, and highly profitable services to publish and distribute independently published books. Our book publishing and distribution services reach worldwide. Dog Ear authors retain all rights and complete creative control throughout the entire self-publishing process. Self-publishing services are available globally at http://www.dogearpublishing.net and from our offices in Indianapolis.
Dog Ear Publishing – self-publishing that actually makes sense.