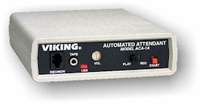 Milwaukee, WI (PRWEB) June 20, 2013
It may not be feasible for a small company to hire an extra employee to answer and redirect phone calls. Paying someone to handle this simple task can cost a company thousands of dollars in wages and benefits. Giving this duty to another worker is not efficient either. They will be swamped with calls and not be able to perform the job they were originally hired for. A cheap and efficient solution is needed. Telcom & Data is pleased to provide a product that fills this need. An Automated Attendant from Viking Electronics is an affordable option for small companies affected by this issue.
The ACA-1A Automated Attendant is a user friendly unit compatible with Centrex, PABX and many key systems. It answers calls in a prompt and courteous manner and allows callers to route themselves with a touch tone phone to an extension or department. Callers without Touch Tone phones default to a live attendant. The message can be interrupted at any time by dialing a single number. Greetings and menu selections for up to 10 extensions can be user recorded. For diverse audiences menu selection can be set up for two different languages. The ACA-1A Automated Attendant system processes approximately four calls per minute. Multiples unit can be used together for companies with larger capacity needs.
For more information on Viking Automated Attendants and how they can reduce costs, visit Telcom & Data's website or call 800-335-0229.
About Telcom & Data:
Since 1996 Telcom & Data has been providing thousands of telecommunications solutions to organizations around the world to measurably improve communications. The company is a leader in business phone systems, intercom systems, and mass notification products. Telcom & Data maintains a network of over 1600 technicians with locations in Chicago, Milwaukee, and Miami.