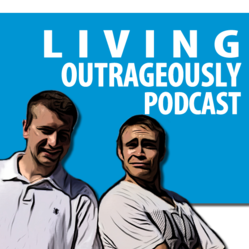 Success in the new economy requires genuine care for your customers and a willingness to get over yourself. Too many people suffer from terminal serious-ness. Life was meant to be fun, too, and, sometimes, I think people forget that.
San Francisco, California (PRWEB) June 13, 2013
Hit lifestyle podcast, Living Outrageously is back after a six-month hiatus for one final season before co-founders Dave Thompson and Matt Kelly retire the show.
Each week, the show presents a new lifestyle topic, helping viewers to live an outrageous life. The show brings together peak performance mindset psychology and new media marketing, with a splash of the latest tech innovations and a dash of health advice. The show's 'x-factor' is the passion, enthusiasm, and care that Kelly and Thompson have for their audience.
Dave Thompson commented, "Success in the new economy requires genuine care for your customers and a willingness to get over yourself. Too many people suffer from terminal serious-ness. Life was meant to be fun, too, and, sometimes, I think people forget that."
After helping over 60,000 people in 75 countries, the show is now coming back, fresh and ready to bring the viewers powerful new insights, so they can stop living a boring life, and start living outrageously.
Season 3 will be the epic finale to what has been a global movement of people choosing to embrace their outrageous life. A huge finale episode is scheduled for late August 2013, during which Kelly and Thompson will break a world record, live on camera.
Matt Kelly stated, "We've always known that Living Outrageously wasn't going to exist forever as a podcast, however the concept of designing your own outrageous life will live on. As a 'movement', there are thousands of viewers worldwide who continue to be demonstrate that impossible is an opinion."
Thompson went on to add, "It's so exciting when you get an email from a viewer saying they have found their dream job, started their own business, or just run their first marathon as a result of applying what we teach on the Living Outrageously Podcast. That's why we do it."
When discussing the big return for the third season, Matt Kelly stated, "The community is what really brought us back. When tuning in for this final season, viewers will understand why we're back to wrap this up in a way that pays tribute to those who have followed the show."
When quizzed on whether the show would ever make a return, Kelly went on to add, "Never say never, I can see us certainly coming together in the future to collaborate once again."
The podcast continues to rock the charts, peaking at #1 in iTunes's self-help category in early 2012. Thompson and Kelly plan to continue to travel the world and help more people than ever before.
About the Living Outrageously Podcast
Living Outrageously is a globally recognized #1 iTunes podcast that is leading a worldwide crusade against the Sloth within us all. Teaching the psychology of success to those who want to step up and live an outrageous life, Dave Thompson and Matt Kelly have helped over 60,000 people in 60 countries eliminate the Sloth and live the life of the Samurai Master. Dave and Matt are inspiring, passionate and insanely entertaining.
The Living Outrageously podcast is released on a weekly basis, made available in iTunes and for viewers who sign up at http://www.livingoutrageously.com.
Dave Thompson
Dave Thompson is an international speaker, entrepreneur, and peak performance coach who helps individuals take their personal brand and turn it into a viable business that allows people to live their own outrageous lives.
Originally a lawyer, Dave Thompson traded a promising legal career for his outrageous ideal life in coaching, speaking and presenting to people on how to make a difference in the world. Dave is a solicitor, holding qualifications in law, business, coaching and peak performance mindset. His clients include RecordSetter.com, Wotif.com, and Griffith University. He is a member of the Australian Beach Handball squad, is known to spontaneously run ultra-marathons and in his spare time, enjoys drinking young green coconuts.
Matt Kelly
Matt Kelly is a bestselling author with a passion for helping people live their dreams and create the freedom they desire. After a dramatic heart surgery in 2011, Matt realized there was much, much more to life than shuffling paper and following the 9 to 5.
Matt is a notable authority on digital innovation and entrepreneurship, and, with his business qualifications in hand, he continues to work with companies big and small as a strategizing on digital solutions. Along with Dave, Matt holds multiple world records.