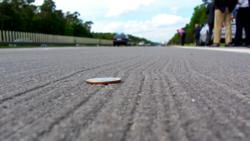 Drag and diamond ground textures can be simple to construct – and they are capable of producing smooth and quiet pavement surfaces.
Austin, TX (PRWEB) June 13, 2013
The Colorado Department of Transportation (CDOT) has recently implemented an updated pavement texture specification that responds to feedback from the state's drivers. The new specification revises CDOT's requirements for finishing Portland Cement Concrete Pavement (PCCP). The biggest adjustment: to improve driver experience, the state has decided to discontinue use of tining on all PCCP projects this year.
In some cases, the grooved pavement texture produced by longitudinal tining can cause drivers to experience uncomfortable lateral vehicle movement while traveling, called groove wander. According to CDOT's Pavement Design Program Manager Jay Goldbaum, CDOT investigated the practicality of moving away from longitudinal tining to address this ride comfort issue.
The specification update is one result of CDOT's long-term study of PCCP textures used within the state, including analysis of texture, friction, noise, and accident records performed by specialty pavement engineering firm The Transtec Group. The texturing methods now required by the specification should not have an adverse effect on the safety of CDOT's pavements.
CDOT's updated PCCP specifications require contractors to finish their pavement by broom, burlap or turf drag, or diamond grinding. According to Dr. Robert Rasmussen, PE, Vice President and Chief Engineer of The Transtec Group, "drag and diamond ground textures can be simple to construct – and they are capable of producing smooth and quiet pavement surfaces."
In addition to meeting CDOT's standards for safety and ride comfort, "the new specification will be easier to monitor," said Goldbaum. The standards require pavement texture to be verified with CDOT's CP-77B volumetric method test, an evaluation similar to the ASTM "sand patch" method.
To access CDOT's new PCCP texture specification, view CDOT's May 2, 2013 Revision of Sections 106 and 412 – Surface Texture of Portland Cement Concrete Pavement, under their New Pilot Project Special Provisions.
About The Transtec Group: The Transtec Group is a pavement engineering firm that provides expertise in pavement design, research, construction, rehabilitation, software development, Public-Private Partnership (P3) projects and technology transfer for the transportation industry. A DBE and MBE firm, Transtec is a leader in Design-Build transportation projects worldwide. Transtec is based in Austin, Texas and serves clients throughout the world. For more information, please visit http://www.TheTranstecGroup.com.