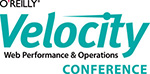 Mountain View, CA (PRWEB) June 13, 2013
Join Aerospike, Dell, LinkedIn, Citrix, and more at the O'Reilly Velocity Web Performance and Operations Conference 2013 June 18-20, at the Santa Clara Convention Center for three action-packed days of learning, networking, and problem-solving with the best in the business. The conference will focus on the key aspects of web performance, operations, and mobile performance through a series of keynotes, hands-on tutorials, and a broad multi-track program of sessions.
Don't miss this opportunity to:

Network with other industry professionals
Hear about best practices developments
Get answers to technical and administrative questions from the experts
Register for the conference here.
CONNECT WITH AEROSPIKE AT VELOCITY
Visit us at Booth #210 in the Exhibit Hall to learn how the Aerospike database can help you do more business faster than ever before. For live updates of the event, follow us on Twitter @aerospikedb.
ABOUT AEROSPIKE
Aerospike, Inc. offers the only real-time Internet-scale database that delivers predictable high performance for mission-critical applications. Aerospike's hybrid memory (DRAM and native flash) architecture scales up and out, consistently processing over 500k transactions per second per node with sub-millisecond latency. With automatic fail-over, replication, and cross data center synchronization, the Aerospike database reliably stores billions of objects and terabytes of data—while providing 100% uptime and 17x better TCO than other NoSQL databases. Customers accelerating their business with Aerospike include adMarketplace, Bluekai, Chango, eXelate, Federated Media, The Trade Desk and [x +1]. For more information, visit http://Aerospike.com.
Aerospike is a registered trademark of Aerospike, Inc., in the United States and/or other countries. All other trademarks and registered trademarks are the properties of their respective owners.