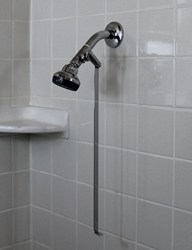 Water Select® is Conservation With Immediate Effect
Dallas, Texas (PRWEB) June 12, 2013
Water Select® is Conservation With Immediate Effect says Jeanene Tips Wilson, the owner of Water Select®. Water Select® is an in-line valve for the shower that addresses conservation of water used during the course of a daily shower.
I interviewed Jeanene, and asked her to talk to me about her fascination and passion about water and explain how that lead her to design, and patent, such a simple, yet effective, plumbing valve. "I've always loved and valued water" she began. "Fresh water conservation is a cause I really support."
"I came up with the idea for the Water Select® valve about 7-years ago when I moved back to Dallas. In the Summer of 2006, north Dallas' major water supply, Lake Lavon, was 8,500 acres dry and Dallas was under Stage 4, verging on Stage 4.5 (out of 5), Drought Restrictions. The drought stages fluctuate but drought is still a persistent reality in our lives; here in central Texas, as well as most of the southwestern United States."
"I had the idea for the valve to help the bathing process of my elderly father. Living under drought rules and regulations prompted me to utilize this tool I developed for the shower and promote it as a way to conserve water in the shower. At the time I patented the valve there wasn't anything like this in-line valve on the market and really not much in the way of technology to conserve water in the shower. The Water Select ® valve screws in between the shower arm and any existing shower head. Simple as that. The beauty of it is that you get to keep the shower head you are currently using."
She went on to explain, "The average household could save more than 2,300 gallons of water per year by installing Water Select® technology. Since these water savings will reduce demands on water heaters, households will also save energy. In fact, a household could save 300 kilowatt hours annually, enough electricity to power a television for about a year."
"If every household in the United States installed our device, we could save more than $1.5 billion in water utility bills and conserve more than 250 billion gallons of water annually—enough to supply water and energy to more than 2.5 million U.S. homes for a year. In addition, we could avoid about $2.5 billion in energy costs for heating water."
"Given how closely related saving water is to saving energy, one of the best ways to save energy across the country and in our own homes is to use water more efficiently. Water Select® offers a simple solution that gives you a minimum of 20% immediate shower water savings, without noticing a change in how you shower. Reducing the volume of water without reducing or changing the water pressure was the deciding factor for me," Jeanene explained, "because I have long hair and a reduction in the water pressure would affect getting the soap out of my hair."
"So, Water Select® is Conservation With Immediate Effect really sums it up quite nicely," Jeanene says. "I truly believe that Water Select's® technology will impact and help conserve our precious supply of available fresh water. Check out our web site at http://www.Water-Select.com to see how easy it is to install a Water Select® valve and use our savings calculator to determine exactly how much you can decrease your monthly utility bills."
Jeanene finished by saying, "Fresh Water is a precious commodity and continued supply requires conservation and management. Concern for conserving the most important, most precious resource on the planet is of utmost importance to everyone around the world. Think LOCALLY then think GLOBALLY. WATER SELECT® IS A WORLD PRODUCT WHOSE TIME IS NOW!"
Water Select® is a water conservation company in Dallas, Texas. Our goal is to raise awareness about the facts regarding how precious clean potable (drinking) water is to the planet. Water Select® is Conservation With Immediate Effect.