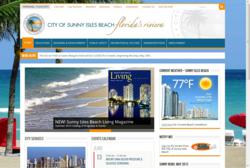 I have just tried out the new website and I am very impressed...a beautiful accomplishment.
Sunny Isles Beach, Florida (PRWEB) June 13, 2013
In conjunction with the 16th Anniversary of incorporation, and the 10th anniversary of the city's official website, the City of Sunny Isles Beach is proud to present a bright new look to the ten-year-old website. The updated, user-friendly site premiered this week at http://www.sibfl.net.
The Sunny Isles Beach website has been updated twice since its inception and new features have been added as the need arose. This latest format change will address the evolving needs of our residents and provide information to visitors that vacation on our shores. Web users will have many useful features at their fingertips.
Emphasis has been placed on ease of navigation and addressing the ever-changing way people access the web. The running slide show, which links to events and important information, will remain along with the calendar of events in the center of the page. An added News Flash feature will highlight important traffic and weather alerts, closings, program changes or cancellations.
The crisp, clean look on the home page hosts links to many useful details within the site for both tourists researching a great place to vacation or residents having a specific need. Information for city departments, weather, events, news, elected officials and much more are organized in a logical manner. This new format is already receiving rave reviews with consumers. A local businessman wrote: "I visited the new website and find that the site has a notable improvement in navigating through the different departments and is markedly better designed." And from a resident we heard: "I have just tried out the new website and I am very impressed. It is a beautiful accomplishment."
Future integration may include social media and mobile applications as the City of Sunny Isles Beach strives to improve all lines of communication with our residents and visitors. Visit the site at http://www.sibfl.net and view the re-design of the home page and corresponding links. For any questions please contact the Cultural & Community Services Department at 305.792.1706.