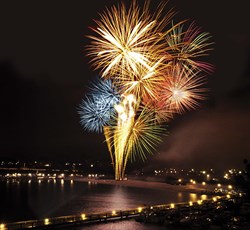 "Newport Beach is perfect for a 4th of July family get together," says Vicki Higgins, Executive Vice President and Chief Marketing Officer of Newport Beach & Company
Newport Beach, California (PRWEB) June 13, 2013
Looking for a fun-for-the-whole-family destination for the Fourth of July holiday? You'll find it in Newport Beach, California - your first choice for a family-friendly Fourth! Newport Beach celebrates Independence Day with a range of entertaining activities and events, including an incredible fireworks display, a three-day festival with live music, carnival rides and games, the famous Old Glory Boat Parade in Newport Harbor, and an old-fashioned bicycle parade – open to locals and visitors – at one of the city's favorite parks.
"Newport Beach is perfect for a 4th of July family get-together," says Vicki Higgins, Executive Vice President and Chief Marketing Officer of Newport Beach & Company, "with a host of special events for 4th of July, Newport Beach features pristine beaches, outdoor activities, unique shopping, dining and entertainment experiences in Sothern California's most stunning location." For more information, please visit VisitNewportBeach.com.
Newport Beach Independence Day on the Bay
The Newport Dunes Waterfront Resort & Marina is hosting a 4th of July family extravaganza beginning with a chili cook off starting at 11:30, and finishing with a concert by the hit band America, and a dazzling fireworks display over the water. The day kicks off with dozens of teams from around Newport Beach offering up mild to extra spicy servings of Red Chili and Chili Verde.
Once people have sampled the selections they can watch the pros go to work. Ruby's diner will host the All American Food Eating Contest. Contestants will face a three-course meal featuring the THREE Ruby's premium chiliburgers, TWO baskets of Fries and ONE Mud Pie Shake Each round will end in the elimination of the slowest two contestants.There will also be an ice cream sundae eating competition for children.
The Kids Corral will feature activities for little kids. Children can enjoy a variety of inflatable attractions, and there will be an array of activities for them to enjoy the afternoon like craft stations, face painting, snow cones, and water balloons.
The music starts at 3:00 with Black Star, followed by Carlos the Experience at 4:30, the Mockers, a Beatles tribute band at 6:00 and then the featured artist, America from 7:30 to 9:30. The fireworks spectacular begins right after the concert.
Tickets are $200 for VIP, which includes valet parking, four wristbands, butler seating bar service, and preferred concert seating access to the OC Register Connect Beer and Wine Garden and two drink coupons. Access ticket and parking is available for $80 and includes four wristbands and self-parking. For tickets to the event visit http://newportdunesjuly4th-eorg.eventbrite.com.
The fun at the Newport Dunes and Resort continues on the 6th of July with Food Truck Wars, rides for older kids, musical entertainment hosted by long-time DJ Richard Blade. Blade, current SiriusXM and former KROQ 106.7 host will DJ the event and introduce the bands Fusion Beat, Cougrzz Rock, and DSB (Don't Stop Believin'.) The top food trucks in Southern California will compete for a $1000 prize and the title of "Best Food Truck in Newport Beach." For tickets to the event visit http://www.newportdunesjuly6.eventbrite.com
Making Waves – and Memories – on the Fourth
Another family-friendly way to celebrate the Fourth in Newport Beach is to attend the annual Old Glory Boat Parade, set for 12:30pm on Thursday, July 4, 2013 in Newport Harbor. The event is California's largest and one of the nation's longest running patriotic boat parades, with more than 100 red, white, and blue-bedecked vessels participating. There is no cost to view the Old Glory Boat Parade, which can be seen from public beaches, docks and boardwalks throughout the scenic harbor area. Sponsored by the American Legion Yacht Club, the parade is part of an all-day festival at the American Legion Post 291 located at 215 East 15th Street in Newport Beach, begins with a pancake breakfast from 7-11am and a BBQ lunch and dinner from 12-5pm with live music and dancing from 1-5pm.
BYOB (Bring Your Own Bike!) on the Fourth
Kids love Newport Beach's Independence Day Parade and Celebration at Mariners Park. A longstanding favorite of locals and visitors alike, the "parade" is an informal celebration that's free to join– simply decorate your bikes, wagons, or ride-on scooters and take part in the fun! The bicycle parade begins at the intersection of Mariners Drive and Commodore Drive and proceeds to Mariners Park, where families can enjoy games, activities, food, entertainment and attractions (fee required for food and some activities). This fun-filled event benefits Mariners Elementary School.
Whether you attend one - or many - of Newport Beach's family-friendly Fourth of July events, you're bound to have a fun, patriotic, and entertaining holiday! For more information on Newport Beach's Fourth of July events and activities, as well as special Newport Beach lodging offers, please visit VisitNewportBeach.com. Happy Fourth!