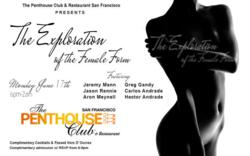 San Francisco, CA (PRWEB) June 13, 2013
Penthouse Club and Restaurant, the premier San Francisco adult club, presents The Exploration of the Female Form, a special art show with complimentary cocktails and passed hors d'ourves on Monday, June 17, 2013.
This event is from 6 pm to 2 am and is free with RSVP, which can be made at http://penthousesf.com/the-exploration-of-the-female-form/.
The Exploration of the Female Form features the work of artists from California and beyond, including Jeremy Mann, Jason Rennie, Aron Meynell, Greg Gandy, Carlos Andrade and Hector Andrade, who all masterfully portray the human form in surprising ways.
Event Details:
Monday June 17th 6pm – 2am at Penthouse Club and Restaurant, 412 Broadway Avenue / North Beach
San Francisco, CA 94133
Complimentary Cocktails & Passed Hors D'Ourves
RSVP to receive Complimentary Admission from 6 – 9pm
Artists:
Jeremy Mann lives in San Francisco and is known for painting with confidence and flair to produce medium to large-scale compositions. Mann covers a wide range of subjects, including interior scenes of lone, young women as striking and restless as the city in which he resides. Praised by critics and collectors, Mann recently graced the cover of American Art Collector magazine.
Jason Rennie first started painting in 1994. With every stroke of his brush, he aims to capture honest emotion and conditions influenced by real human behaviors, resulting in smooth colors and soft, fleshy forms that mask a hidden narrative.
Aron Meynell is a San Francisco-based artist, whose work portrays the quiet and uncertain world of abandoned figures in insecure eerie environments, alongside the discovery of beauty and comfort within them.
Greg Gandy is a realist painter from Central California who now works and resides in San Francisco. He is best known for his intricately detailed cityscapes, but is also very skilled at still life and figurative compositions.
Carlos Andrade, also known as Salcor, is an illustrator and designer from Spain who began his career at a very young age. Today, he creates powerful illustrations of figures and forms with incredible detail.
Hector Andrade is an illustrator and designer based in San Francisco who uses his professional graphic design experience to take the female form to a new level.
For more information about The Exploration of the Female Form art show, visit penthousesf.com or call (415) 391-2800.
About Penthouse Club & Restaurant San Francisco
The Penthouse Club & Restaurant has taken upscale adult nightlife in San Francisco to an entirely new level. Featuring the top exotic dancers from around the country, the 15,000 square foot San Francisco strip club combines the best in adult entertainment with some of the finest dining in the city—including mouthwatering steaks, seafood and pastas prepared by Michelin Star-rated chef Michael Ellis.
The Penthouse Club & Restaurant's distinctive design features include a massive 20-foot tall video wall, LED light curtains, gigantic, see-through champagne display cabinet, video-embedded cocktail tables, intimate private dining booths, and a refrigerated and illuminated ice rail built into the main bar to keep guests' drinks cold.
Located at 412 Broadway Avenue, the Penthouse Club & Restaurant in San Francisco is independently owned and operated, and is open 7 days a week. Bottle service and dinner reservations can be made at penthousesf.com, on Open Table, or just call (415) 391-2800.