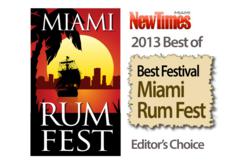 Rum is fun. And what could be more fun that a festival celebrating all the best rum in the world?
Miami, FL (PRWEB) June 14, 2013
South Florida's leading entertainment publication, Miami New Times, today named the Miami Rum Festival as the best in category: Best Festival in Miami for the year 2013.
The publication points out the exceptional job that festival promoters do to organize the finest rums from around the world, creating an entertaining and informative atmosphere for locals and visitors to discover and enjoy this delightful spirit.
Miami is home to an enormous number of world-class, well-attended festivals and special events each year, including the South Beach Food & Wine Festival. The coveted Best Festival award recognizes exceptional and notable efforts to bring best-in-class events to the area.
The Miami Rum Festival began with a small gathering of about 1,000 rum enthusiasts and 1,500 square feet of exhibit space in 2009. By the fifth year, the event was attracting more than 12,000 consumers, members of the trade and spirits press with more than 40,000 square feet of exhibit space. The festival now lays claim to the world's largest rum event, bringing together hundreds of rum brands and expressions from dozens of countries -- and visitors from 29 countries.
The United States is the largest market for rum in the world. Florida is the number one state in rum sales. The southern counties of Florida consume the lion's share of rum spirits in Florida, giving the area the claim of the most thriving and important local rum market in the world.
Miami Rum Festival hosts organize a week long series of VIP parties and special tasting events, along with the three day weekend grand tasting exhibits at the Doubletree Miami Airport Hotel and Convention Center. The esteemed judges of the International Rum Expert Panel (RumXPs) hold their annual blind tasting competition at the festival and announce their awards for most outstanding products at the event.
For more information about Miami New Times "Best of Miami" Awards, visit the web site at http://www.miaminewtimes.com/bestof/.