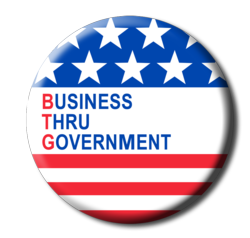 Our Success is Your Success
San Diego, CA (PRWEB) June 14, 2013
Business Thru Government, a firm specializing in assistance to small businesses in the field of government contracting announced that its third-party paperwork and bidding assistance program was helping businesses across the region land and administer government contracts.
The Company sited as a prime example the most recent win by one of their clients, Northern Services, Inc.
"Northern Services bid on and was awarded the contract for Cooling Tower Rebuild at the Atascadero State Hospital. Their bid was a perfect example of how doing the paperwork properly, along with holding the right certifications, made them a winner," said Danny Shuster, Vice President of Business Thru Government. "Their initial number was as fourth-lowest bid. However, two other bidders were disqualified due to improper bid paperwork, and the third lost out to our client because they were not a certified Small Business."
Government agencies frequently offer preferential treatment to small businesses in order to help them compete for contracts, so long as they are properly certified.
The contract award totaling nearly 240,000, was awarded to Northern Services after adjustments in bidding amounts were made based on small business preferences offered by the state to registered small businesses. There were eight total bidders on the project.
"BTG continues to improve upon its already successful program of taking on the difficult and time-consuming tasks of contract bid writing, administration, and certification. This allows our clients to focus on the pricing and performance of the work," said Chris Payne, Contract Specialist with Business Thru Government.
BTG earlier announced that their clients had been awarded more than 15 contracts in May 2013 alone, totaling more than $950,000.00
Business Thru Government is a privately-held Company that specializes in helping its clients prepare for, win, and administer government contracts. It has had tens of millions of dollars in contract value awarded to its clients and is regularly adding to that total with a constant stream of contract awards. The Company can be contacted at http://www.biz-gov.com or by telephone at 619-501-6464.