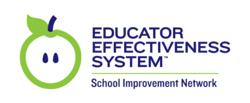 SALT LAKE CITY (PRWEB) June 13, 2013
School Improvement Network, the leader in educator effectiveness resources, today released a new strategy for increasing student achievement and student motivation through response to intervention data and data-based decisions in Strategy of the Week, a weekly publication highlighting the most innovative and impactful practices in education for increasing educator effectiveness and student achievement. The strategy, available to all educators through the Strategy of the Week blog, shows real educators mentoring student progress using response to intervention data, and sharing this data with students to increase student motivation.
"Helping students take ownership of their education is a key component of educator effectiveness and essential to getting 100 percent of students college and career ready," said Chet Linton, School Improvement Network CEO and president. "By thoroughly analyzing response to intervention data to make data-based decisions and sharing it with students, educators can motivate students to engage in their education by tracking their own progress and setting benchmarks and goals. Using this response to intervention data will increase educator effectiveness, as well as create real gains in student achievement."
Through this strategy, educators will see how gathering response to intervention data can maximize student success:

Develop benchmarks of achievement
Create assessments to track students' progress towards benchmarks
Monitor student progress proficiently
Use data gathered to make decisions to ensure student success
Click here to see the Strategy of the Week response to intervention data strategy.
Click here to learn more about the PD 360 platform.
About School Improvement Network
Founded in 1991 by teachers, School Improvement Network has spent decades researching and documenting the best practices in education. From this research, School Improvement Network has developed the Educator Effectiveness System. This system delivers a process to improve teacher practice, and gives educators a set of powerful tools to drive the process. Research shows that districts and schools that use the tools in the Educator Effectiveness System produce better teachers and, as a result, experience dramatic increases in student achievement, driving up student test scores by as much as 30 percent in a single year. School Improvement Network works with thousands of schools and districts in every state and around the world and has visited over 3,500 classrooms to document best practices in action. Learn more at http://www.schoolimprovement.com.
School Improvement Network and its logos are trademarks of School Improvement Network. All other trademarks and registered trademarks are the property of their respective owners.