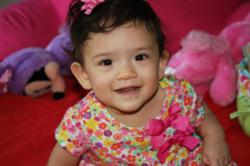 Scottsdale, AZ (PRWEB) June 12, 2013
Photographers worldwide helped make the first-annual Appointment-Plus National Photo Month Contest a big success by sharing over 110 fun photos with the online scheduling provider.
Appointment-Plus conducted the contest to show its appreciation for the photography industry, which benefits from its appointment scheduling software.
"We're extremely pleased with the success of our inaugural photo contest, which showcased the incredible talents of photographers and our international clients," said Kendall Matthews, director of marketing at Appointment-Plus. "Winning entries will receive even greater exposure when we add their photos on our Web site."
The first-place award goes to Cynthia Robles, who submitted a photo of her office manager's baby girl. She received 4,359 Facebook "like" votes for her photo and will receive a $250 Visa gift card.
Robles is a licensed family and marriage therapist in Temecula, Calif. She specializes in multicultural couples' therapy and has over 20 years of experience treating patients for various mental health issues. For more information on Robles' practice, visit http://cynthiaroblesmft.com/.
The second place award goes to Maria Mandel, who submitted a photo of a dog sporting a cap with the word 'Peace' inscribed on it.
The Appointment-Plus National Photo Month Contest is a direct reflection of one of Appointment-Plus' core values: fun! The company encourages all of its employees to add a little fun in everything they do. And this contest was a perfect way to spread fun to clients, contest participants and visitors to its Facebook page.
Learn how Appointment-Plus online scheduling software can help grow your photography business. Read our research paper titled, "Manual vs. Automated Appointment Scheduling". Call 800-988-0061.
About Appointment-Plus: Over 16 million people trust Appointment-Plus online scheduling software for their booking needs. It's the leading business management tool for photographers that provides customer self-scheduling and reminder notifications that reduce no-shows by 70 percent. The software integrates with Outlook and Google calendars.