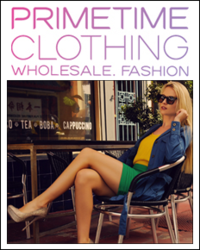 "We scour the fashions on the runways leading up to the release of our collections each season, and we take those runway looks and find items that are going to be attainable and wearable for our customers," said the company spokesperson
Los Angeles, CA (PRWEB) June 13, 2013
Primetime Clothing, the premier retailer of the trendiest fashions at unbeatable wholesale prices, is pleased to announce the arrival of new accessories, featuring the hottest trends for summer.
Accessories now available from the wholesale clothing distributor include neon PVC handbags in a variety of the brightest and most stylish colors, as well as neon sunglasses and stretch belts with gold detailing.
"This summer, the trends are all focused on color—in particular, neon colors," said a representative for Primetime Clothing. "Accessories are one of the best ways to follow the neon trend by adding just a pop of color, for example in a bag or belt, without wearing head-to-toe neon."
The neon purses, particularly those constructed of PVC, are one of the biggest sellers for summer 2013, according to the company spokesperson. The designs not only feature bold colors, but are also lightweight, which makes them perfect for use during summer activities.
In addition to a full selection of the most sought-after styles in summer accessories, Primetime Clothing also has a vast inventory of summer clothing, featuring the newest in trends, including floral patterns, denim vests, white denim and stripes.
"We scour the fashions on the runways leading up to the release of our collections each season, and we take those runway looks and find items that are going to be attainable and wearable for our customers," said the company spokesperson. "We're really pleased with our summer 2013 collection—it offers style, versatility, and of course the wholesale prices that our customers have come to expect from our high quality products."
Primetime Clothing provides a selection of not only wholesale women's clothing, but also stylish clothing options for men. Additionally, when customers visit PrimetimeClothing.com, the company offers the opportunity to receive 15% off the first order, simply by entering the discount code PRIMETIME at checkout.
About PrimetimeClothing.com
PrimetimeClothing.com is an online wholesale clothing distributor. The retailer offers only the most high-quality wholesale apparel and accessories, for both men and women. New items arrive daily from Los Angeles-area manufacturers and importers. With over 25 years of experience in the business, PrimetimeClothing.com brings expertise and know-how to the industry. The retailer specializes in fashionable Junior, Missy, Plus-Size, Men's', Active Wear, Intimate, Handbags, and accessories, at the lowest possible prices.