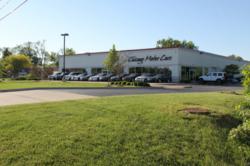 (PRWEB) June 14, 2013
Chicago Motor Cars is a renowned auto dealership in West Chicago, Illinois. Recently, the dealership moved its operations to a new facility where it now acts as a one-stop shop for those looking to buy a car.
Chicago Motor Cars started its operations in 2004, and after nine years, the dealership has become one of the largest online car dealers offering high line pre-owned vehicles. Today, Chicago Motor Cars owns an inventory of the most pristine vehicles coming from upper end manufacturers such as BMW, Audi, Lamborghini and Mercedes-Benz.
"We don't just provide cars; we provide all the solutions which would make owning an exotic automobile possible for our valuable customers. It's very simple – people don't just look for a nice car while making such an investment; they also need some solutions which would secure their investment and help them fund the purchase. Chicago Motor Cars understands what car buyers in the market are actually looking for," said Chris Moran, Director of Online Branding.
The auto dealership has recently relocated its operations to its new facility which comprises of two offices. The two showrooms provide 50,000 square feet of area, parked full with high line cars, SUVs, trucks, motorbikes and mini vans. The indoor showroom is climate controlled, thus providing a comfortable environment for customers and a secure display place for Chicago Motor Cars' vehicles.
Chicago Motor Cars aims to follow strict quality standards and adopt a 'no tolerance' policy towards automobiles which do not comply with its benchmarks. There are experienced inventory management professionals who specifically handpick each vehicle which fully comply with the quality checks in place. The quality used vehicles are detailed by the expert detailing staff, and are given a shiny finish to make them look as new as possible.
Due to a cooperative and knowledgeable support staff, the dealership has earned great repute over the World Wide Web. Chicago Motor Cars is the six time recipient of eBay Motor Top Seller award. The dealership was able to cross $700 million in online sales in 2012.
"I am very pleased with the solutions provided by CMC. I purchased a car, got it financed, secured my investment by insuring it and then got a warranty plan for it…all under one roof. I think that's one of the best parts of Chicago Motor Cars and that will take them even higher. Great work guys!" said one of the dealership's customers after his purchase of a 2007 Chevrolet Corvette.
Further information can be found on the company's website, http://www.ChicagoMotorCars.com. For any queries, reviews and suggestions, contact the customer support at (630) 221-1800.