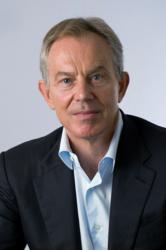 Jacksonville, FL (PRWEB) June 14, 2013
The 2013-2014 Florida Forum speaker series, produced by The Women's Board of Wolfson Children's Hospital to benefit the Pediatric Surgery Center of Distinction and additional vital needs at Wolfson Children's, will host an all-star lineup at the Times-Union Center for the Performing Arts in Jacksonville, Florida.
Women's Board President Jackie Bargas and 2013-2014 Florida Forum Chairs Poppy Clements and Rosa Maria King announce the upcoming season's guests.
The 2013-2014 series opens October 16 with Tony Blair, who served as Prime Minister of Great Britain and Northern Ireland from May 1997 to June 2007, was the leader of Britain's Labour Party and was the Member of Parliament for Sedgefield, England. Blair has always been a strong advocate of a values-based, activist and multilateralist foreign policy—an agenda that combined tackling terrorism and intervention with action on issues like climate change, global poverty, Africa and the Middle East Peace Process. Blair is also widely credited for his contribution towards assisting the Northern Ireland Peace Process.
On November 12, 2013, The Women's Board welcomes renowned best-selling author Michael Lewis. A shrewd observer of politics, finance and the American scene, Lewis combines keen insight with his signature wit, making him one of today's leading social commentators.
He first made a name for himself with the chart-topping Liar's Poker: Rising through the Wreckage of Wall Street, and since then has penned many best-selling books, including Moneyball: The Art of Winning an Unfair Game and The Blind Side: Evolution of a Game, both of which became eponymous major motion pictures. Lewis is also a regular contributor to The New York Times, Vanity Fair, Slate and Bloomberg.
The Florida Forum season concludes on January 16, 2014, with former Florida Governor Jeb Bush. In his two terms as Governor, he played a central role in reforming education and consumer health care in Florida. During his tenure, Florida led the nation in job growth and narrowed the student achievement gap. Bush is currently chairman of Foundation for Excellence in Education, a national foundation focused on education reform and co-chairman of the Barbara Bush Family Literacy Foundation.
One of two major benefits produced annually by the all-volunteer Women's Board, the 2013-2014 Florida Forum will contribute vital funds for program and clinical equipment needs in addition to a five-year, $4 million pledge towards the Pediatric Surgery Center of Distinction at Wolfson Children's Hospital, which will assure children have access to the most advanced pediatric surgical services and technologies available, enable the most skilled surgical staff to work on advancing surgical techniques, expand the use of minimally invasive and robotic surgery, and help the hospital meet the needs of pediatric trauma patients.
Lecture tickets are now available in various subscription packages, which may be purchased online through the Florida Forum website at http://www.thefloridaforum.com or via telephone by calling (904) 202.2886.
ABOUT THE WOMEN'S BOARD OF WOLFSON CHILDREN'S HOSPITAL
Established in 1973 by Ellen Cavert in Jacksonville, Florida, the ongoing mission of the entirely-volunteer Women's Board is to raise community awareness and to fund state-of-the-art infrastructure, programming, services and resources for Wolfson Children's Hospital—the only dedicated children's inpatient healthcare facility in the region. Since its inception, The Women's Board has raised more than $23 million in support of Wolfson Children's Hospital to ensure the advancement of first-rate continuing medical care for all children. Two major annual benefits—the Art & Antiques Show and the Florida Forum speaker series—currently enable the Board to donate more than $1 million a year to Wolfson Children's Hospital.
For more information about this advisory, The Women's Board of Wolfson Children's Hospital, the Pediatric Surgery Center of Distinction, or to request ancillary materials, and/or to coordinate an interview, please call (904) 202.2886 or email floridaforum(at)bmcjax(dot)com
PRESIDENT MRS. MATTHEW ST. JOHN BARGAS | 2013-2014 FLORIDA FORUM CHAIRS MRS. ROBERT M. CLEMENTS | MRS. T. FITCH KING III
OCT-16, 2013 Tony Blair | NOV-12, 2013 Michael Lewis | JAN-16, 2014 Jeb Bush | TIMES-UNION CENTER FOR THE PERFORMING ARTS | PRESENTING SPONSORS Florida Blue | Landstar | Wells Fargo
For tickets and information, CALL (904) 202.2886, EMAIL floridaforum(at)bmcjax(dot)com , or VISIT http://www.thefloridaforum.com
THE WOMEN'S BOARD OF WOLFSON CHILDREN'S HOSPITAL | 1325 San Marco Boulevard, Suite 802 | Jacksonville, Florida 32207
PHONE (904) 202.2886 | FACSIMILE (904) 202.2778 | EMAIL
womensboard(at)bmcjax(dot)com | ONLINE http://www.womensboardwch.com
HIGH-RESOLUTION PHOTOS OF ALL SPEAKERS AVAILABLE UPON REQUEST