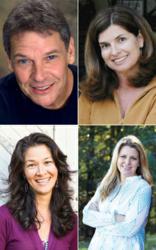 Santa Barbara, CA (PRWEB) June 13, 2013
Saturdays, June 22, 29 and July 6 at 12:30 pm: Larry Walling of Bellissimo Architectural Finishes, will demonstrate how to re-finish old and new terra cotta and concrete pottery and fountains to look like new.
Saturday, July 6 at 2:00 pm: Jean Cross, Executive Directory of the Art League of Lincoln and Gladding McBean sculptor will present a slide show and lecture on Gladding McBean's contribution to the Stanford University Campus.
Saturday, July 13 at 11:30 am: presentation by Stefani Bittner, co-founder of Star Apple Edible Gardens and co-author of The Beautiful Edible Garden.
Saturday, July 13 at 1:00 pm: presentation by garden designer, Rebecca Sweet, from Northern California's Harmony in the Garden and best-selling author of "Garden Up! Smart Vertical Gardening for Small and Large Spaces".
Sunday, July 14 at 11:30 am: presentation by garden designer and best selling author, Rebecca Sweet.
Sunday, July 14 at 12:30 pm: Julie Chai, a garden writer who was Senior Garden Editor at Sunset Magazine, will discuss Container Gardening 101.
Sunday, June 23 and Sunday at June 30,11:30 am – 12:30 pm: Pacific Horticultural Society will speak on a variety of subjects pertaining to horticulture and gardening today.
Eye of the Day Garden Design Center's first pop-up store will be on location in the Pavilion at Stanford Shopping Center from June 14 through July 14, open between 11 am - 6 pm . The flagship retail store is located at 4620 Carpinteria Avenue in Carpinteria, California and is open every day from 10 am to 5 pm.