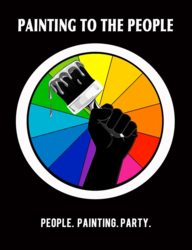 When people ask me 'Are you an artist?' my reply is always, 'Aren't we all?' Painting to the People is designed to unlock the artist in all of us
San Francisco, CA (PRWEB) June 13, 2013
Paint away the midweek slump with a new weekly event at San Francisco's favorite club. Starting June 18 and continuing every Tuesday from 7 to 11 pm, Temple Nightclub will host Painting to the People with painting classes by Paint Nite, collaborative art on the patio and an exclusive art market.
"When people ask me 'Are you an artist?' my reply is always, 'Aren't we all?' Painting to the People is designed to unlock the artist in all of us," said Temple Nightclub Owner Paul Hemming.
And what fun would painting be without a few drinks and some great music? Painting to the People drink specials include $5 beers, $3 wells and Special Painters' Punch for the entire night, and music will be provided by MOM (Motown Mondays) DJs.
Painting to the People will take over three rooms of the iconic San Francisco event venue.
On the outdoor patio will be Classless Creation, where anyone with a hint of interest and a dash of boredom can create a work of art either solo or with friends. Paints, brushes and canvases will all be provided.
Drink Creatively in Temple's Destiny Lounge, where Paint Nite will host a painting class beginning at 7 pm, with local artists that will teach guests technique and style tips all while having drinks and meeting new people. A professional artist will guide cocktail-sipping guests step-by-step from a blank canvas to a final masterpiece in about an hour or two. Paints, brushes and canvases are provided, but guests are required to purchase a ticket. Tickets can be found through Groupon, or click here.
The Catacombs of this unique San Francisco club will be dedicated to The People's Art Market, featuring live painting and exhibits by local artists Heng Wang, Robert Falco, Derek Heinemann, Dela, J Solter and the mobile art gallery, ArtistMobilus, will be parked outside.
For more information about Painting to the People, visit https://www.facebook.com/events/574451045909645/ or call 415-906-3791.
About the Zen Compound
The Zen Compound is an entertainment complex housing Temple Nightclub, Ki Sushi, TMG Recording Studios, Temple TV and ZCFM Radio, all with a sustainable focus.
Temple Nightclub is one of the most popular clubs in San Francisco. Filled with original unique antiquities from Southeast Asia, this incredible San Francisco event space offers 20,000 square feet of space, which can accommodate 1,100 guests on two levels. The nightclub includes four beautiful rooms, each with its own unique atmosphere.
For San Francisco event space rentals or corporate event inquiries, contact Dave Peterson at (415) 529-4307 x 309. For reservations and bottle service inquires contact Natalie Borges at (415) 978-9943 x 304.