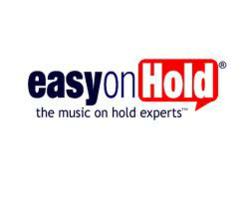 Kalamazoo, Michigan (PRWEB) June 13, 2013
Easy On Hold announces that it has added to its clientele three more firms from the Fortune 100 list. The music and messaging on hold company has now served nine of America's highest revenue-generating firms.
"It's indeed a cliche, but I have to say it: You're known by the company you keep," said Easy On Hold President Julie Cook. "Sixteen years after starting our company, it's exciting to know we have perfected a product and a system that is attractive to these great brands."
Fortune Magazine has generated a list of the top 500 highest-grossing revenue companies in America since 1955. The top layer is referred to as the Fortune 100.
Cook says on the list at number five is Berkshire Hathaway, the conglomerate headed by Warren Buffett, Easy On Hold provides IVR/phone prompts and music on hold and custom marketing messages at Shaw Industries call centers and manufacturing plants in the U.S. and China. Shaw, a division of Berkshire Hathaway, is the world's largest carpet manufacturer.
At number 11 is AT&T. Easy On Hold provides voice recordings for AT&T's telephone automation systems nationwide. "Today's automation systems are sophisticated, requiring dependable voice talent and studio services delivered with consistently high quality," Cook said.
Snapfish! By HP, Hewlett-Packard online photo-sharing community and photographic print service, is number 15 on the list. Cook says Easy On Hold provides custom on hold messaging prompts for callers on hold at Snapfish customer service lines.
"If you have an appliance repair order or issue through the Home Depot, you're going to hear Easy On Hold's voiceover talent produced in a partnership with Repair Clinic," says Cook. Home Depot is ranked 34.
Easy On Hold has provided multimedia voiceover tracks for pharmaceutical giant Pfizer, number 48 on the Fortune 100 list. Cook has also been a public relations consultant for its Michigan-based operations.
At number 59 on the list is Lockheed-Martin, the global security and aerospace company. Lockheed uses music on hold licensed through Easy on Hold. "Corporations such as Lockheed know they cannot risk playing unlicensed music on their hold button of their phone systems," Cook says.
The global energy company Hess Corporation is number 75 on the Fortune list, and uses Easy On Hold's music and messaging services to educate callers on hold.
Easy On Hold provides custom audio messaging and music on hold for Honeywell, the global technology company, ranked 78 on the list.
Deere Corporation is listed in the 85th position on the Fortune 100. Easy On Hold provides multi-location on hold messaging and music to dealers across North America. "Deere dealers are a great group to work with," Cook says, "and they understand how important the customer experience is while waiting on the phone for help."
Cook noted that her company also provides services to companies listed on the larger Fortune 500 list, including Cummins (160), Colgate-Palmolive (165), Visa (260), Genworth Financial (271), Stryker (305), Republic Services (323) and Frontier Communications (492).
Many of the top privately held corporations, as listed by Forbes Magazine in its list of the top 220, use Easy On Hold for custom audio marketing solutions and music on hold as well, including Meijer (15), Amway (25), Gordon Food Service (39) and Ashley Furniture (143).
Easy On Hold, http://www.easyonhold.com, created in 1997, provides professional telephone recordings, music and on hold message productions, auto attendant, IVR, voicemail greetings, and web audio to companies around the world.