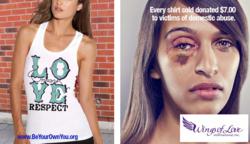 Domestic Violence Has No Zipcode
Los Angeles, CA (PRWEB) June 13, 2013
Denise O'Brien announced today that she has partnered with BYOU, launching a two week campaign to raise money for her nonprofit organization, Wings of Love International, Inc., (WINGS) which empowers, educates and inspires a pathway from abuse to emotional health, wholeness and abundance.
CEO/Founder & Executive Director of WINGS, Denise is co-author of the book, 'ADVENTURES IN MANIFESTING PASSION AND PURPOSE,' along with successful entrepreneurs like Janet Attwood, NY Best Selling Author of 'The Passion Test,' and Bob Doyle, Best Selling Author and Law of Attraction expert featured in the book and the movie 'The Secret.'
Denise encourages people to develop their outer and inner beauty and to find their true mission in life so that they can live on purpose. She calls herself 'The Queen of Joy, Beauty & Passion,' which everyone around her agrees with whether they have just met her or have worked with her for decades.
With BYOU's motto "B-Inspired! B-Involved! B-Empowered!" Denise was excited to join BYOU not only to raise money for her nonprofit, but to bring further awareness to her mission to educate the world about domestic abuse. "I have been so inspired by the BYOU brand and the dedication its team brings to each charity, such as the campaigns for the Ty Foundation to support childhood cancer research, and the Bethany Hamilton foundation supporting those with traumatic injuries," shares Denise. "My extended family has been through its share of trauma over the years, and we could not have made it through those challenges without our faith and the support of many family and friends around us."
The new Signature Series apparel designs incorporate some of the sayings Denise shares when delivering her powerful message from the Hollywood red carpet to the boardroom, through her many celebrity clients, marketing and publicity workshops, speaking engagements to schools, chambers of commerce, churches, girl's and women's groups, college audiences, nonprofit organizations, Rotary International, Soroptimist International, Al-Anon, and small and large corporations.
Sayings like: "Domestic Violence Has No Zipcode," and "LOVE means RESPECT."
The designs, many of which include the WINGS logo, are available for a limited time on a tote bag, ideal for summertime, and on various apparel for men, women and children. The website http://www.BeYourOwnYou.org makes it easy for fans and friends to purchase trendy WINGS signature items, and for every item sold during the two-week campaign, $7 of each purchase will go directly to Wings of Love International, Inc.
A source of inspiration to thousands worldwide through her personal stories and blogs on Facebook, Denise continues to shine a light of hope on a very difficult topic to discuss publicly.
Her inspirational leadership, unequaled integrity, smooth networking style and proven ability to lead others to live their dreams has been widely respected for more than three decades.
After decades of working in entertainment, fashion and beauty, Denise's life was transformed forever when her daughter Brittany was nearly killed in a tragic accident, suffering a traumatic brain injury and in a coma for over two weeks. After Denise's time at Brittany's bedside during her 40 day stay in the UCLA NeuroTrauma ICU, her 20-year-old daughter made a miraculous full recovery. Denise's testimony of her deep faith and her caregiver story, describing one of the greatest challenges of her life has inspired thousands worldwide.
Denise also founded DOME Consulting, LLC to help bring funds to WINGS. DOME provides innovative branding and publicity support for Hollywood producers, directors, actors, fashion designers, speakers, authors and corporations. As a sought after speaker and expert on the topics of public relations, self-esteem, inner and outer beauty, confidence, empowerment, domestic violence, and creating your own charismatic package, Denise encourages others to discover their own passions while developing their inner beauty.
For more information about how to get involved with WINGS, visit their website, http://www.WingsOfLoveIntl.org. For more information on Denise, visit her website at http://www.Denise-OBrien.com
About BYOU - Be Your Own You:
Be Your Own You is a lifestyle brand that empowers women and children through positive messaging, apparel and accessories, educational programs and an editorial magazine. BYOU was formed in partnership with Children's Edutainment Network and teen celebrity Cymphonique Miller.
BYOU's Celebrity Signature Series allows celebrities to create signature designs that reflect their own personalities and highlight the issues of self-image and women's empowerment, key concepts of the BYOU brand. This new strategy is a simple three-step process. BYOU partners with celebrities who create and design a "Signature Series" line of designs incorporating the BYOU brand. The celebrity then chooses a charity to benefit from sales of the designs which will be produced on apparel and various other products. BYOU markets the new designs on http://www.BeYourOwnYou.org for a two-week period and $7.00 from every item sold goes directly to the charity the celebrity chooses.
For more information, and to check out the online store visit, http://www.BeYourOwnYou.org.
###