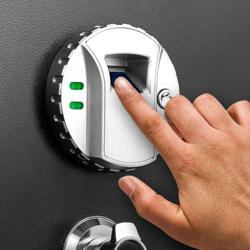 B&H now offers a wide range of Barska® Biometric Fingerprint Safes
Pomona, California (PRWEB) June 13, 2013
B&H PHOTO VIDEO, a retail leader in professional photography and electronic equipment distribution since 1973, has become an authorized dealer of Barska® Biometric Fingerprint Safes. B&H now offers a wide range of Barska® Biometric Fingerprint Safes, with sizes ranging from portable compact biometric safes to the larger rifle biometric safes. These safes will allow users to securely store firearms and electronics, and then be able to quickly access them with the scan of a fingerprint.
Now available at B&H is the new Biometric rifle safe by Barska®; it is the ultimate secure quick access rifle storage system. The advanced biometric rifle safe fingerprint recognition technology allows for fast secure access to firearms with the simple scan of a fingerprint. Push the power button and scan a registered finger on the laser optics sensor to quickly open the safe in three seconds. The biometric safe scanning technology is the solution to securely storing rifles and having instant access to them in the event of an emergency. No need to look for safe keys or remember complex numerical key combinations. The new biometric rifle safe by Barska® is the safe of the future today.
Securely store up to four long rifles along with ammunition and handguns on the detachable storage shelf. A removable four-section rifle safe barrel holder will keep rifles lined up and ready for action. Weighing in at 66 lbs the Barska® rifle safe will detour any would-be thief from taking off with your valuables. For added security the biometric rifle safe is manufactured with six mounting points at the back of the safe and includes mounting hardware. Out of the box, this safe is ready to be mounted securely to a wall, floor, or solid flat surface.
The three point dead-bolt locking system and solid steel construction guarantees peace of mind that no unauthorized users will have access to stored valuables. The Barska® biometric finger scanning optical sensor is extremely energy efficient lasting up to two years on only 4 AA batteries (included). With more than 2.5 cubic feet of storage space it is able to store much more than rifles. Keep firearms secure and quickly accessible with Barska's biometric rifle safe.
For more information on the BARSKA® biometric safes available at B&H Photo Video, please visit http://www.bhphotovideo.com or call 1-800-894-9703. BARSKA®, with corporate offices, warehouse and distribution in Pomona, CA (Southern California) is a worldwide safe company with strong brand recognition in the optics and safe industry. BARSKA® offers an extensive line of biometric safe products ranging from large rifle safes to compact handgun safes. BARSKA® is committed to delivering a superior quality product at an affordable price to our customers around the world. For more information, please call BARSKA at 1-909-445-8168, or visit them online at http://www.barska.com.