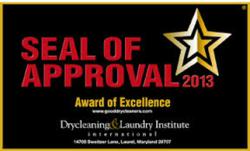 By becoming a Seal of Approval cleaner, Bridgestone Cleaners proved there is a difference between quality cleaners and their competition
Brooklyn, NY (PRWEB) June 13, 2013
Brooklyn green drycleaner Bridgestone Cleaners has received the 2013 Seal of Approval Award of Excellence from The Clothing Care Council. This is the 7th consecutive year Bridgestone Cleaners has earned this distinction.
The Brooklyn, NY based green drycleaner - a member of the GreenEarth Cleaning family - passed all the rigorous cleaning and customer service evaluations which are the criteria for proving that the cleaner has successfully maintained high quality cleaning standards and has shown the ability to remove complex stains along with demonstrating superior quality and customer service.
The prestigious international award is administered by The Clothing Care Council, a Washington, D.C.-based group, and to date their have only been 140 companies around the world who have been honored with the Seal of Approval.
"Finding a good cleaner who will consistently treat you like a valued customer shouldn't be a guessing game," Drycleaning & Laundry Institute CEO Mary Scalco said. "By becoming a Seal of Approval cleaner, Bridgestone Cleaners proved there is a difference between quality cleaners and their competition. Now customers know where to find a cleaner who will treat them and their garments properly - every time."
Each year, Seal of Approval Drycleaners must renew their status with the program by successfully completing stain removal and cleaning performance tests. Additionally, they must meet other requirements such as continuing education, community service, and offering superior customer service as evidenced by the company's standing with the Better Business Bureau.
About Bridgestone Cleaners
Bridgestone Cleaners are Brooklyn's real green dry cleaning experts serving brownstone Brooklyn. Call 718-222-9958, or visit our Dumbo (109 Front Street) or Cobble Hill (175 Court Street), Brooklyn, NY locations. Follow us on Facebook.