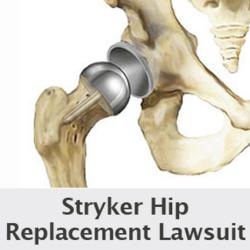 If you or someone you love were injured by Stryker Hip replacement recall, please visit yourlegalhelp.com, or call toll-FREE 1-800-399-0795
Columbus, OH (PRWEB) June 13, 2013
Wright & Schulte LLC, an experienced medical device injury law firm, reports that the U.S. Judicial Panel on Multidistrict Litigation (JPML) has ordered that all Stryker hip replacement lawsuits involving Rejuvenate and ABG II hip stems be consolidated in a multidistrict litigation before a single judge in one federal jurisdiction. According to a Transfer Order dated June 12th, the Panel has sent 41 Stryker hip replacement lawsuits to the U.S. District Court, District of Minnesota, to be overseen by the Honorable Donavan W. Frank. All Stryker Rejuvenate and ABG II lawsuits filed in federal courts in the future will likewise be transferred to Minnesota. (In Re: Stryker Rejuvenate and ABG II Hip Implant Products Liability Litigation, MDL No. 2441)
[jpml.uscourts.gov/sites/jpml/files/MDL-2441-
Initial_Transfer-05-13.pdf - May 2013]
Wright & Schulte LLC is offering free Stryker hip replacement recall lawsuit consultations to individuals who suffered serious complications due to the recalled Stryker Rejuvenate and ABG II Modular-Neck Hip Stems, including:

Metallosis
Tissue death
Osteolysis
Damage to bone and tissue
Inflammation
Premature failure of the implant
Infection
Loosening of implant
Formation of pseudotumors
For more information on filing a Stryker hip recall lawsuit, or to arrange for a free legal consultation, please visit yourlegalhelp.com.
Stryker announced the Rejuvenate and ABG II hip stem recall in July 2012, after the devices were found to be prone to corrosion and fretting at the modular-neck junction, which may place recipients at risk for pain, swelling and adverse local tissue reactions that require revision of their hip implant. In deciding to transfer the federal Stryker hip replacements to the District of Minnesota, the JPML determined that the Rejuvenate and ABG II claims currently pending in federal courts share common questions of fact concerning the design, manufacture, marketing and performance of the hip stems. According to the Transfer Order, the Panel further concluded that centralization will eliminate duplicate discovery and inconsistent rulings, and otherwise preserve the resources of the Court, parties and witnesses.
[literature.ortho.stryker.com/files/REJUV_COM_23.pdf - January 2013]
The federal litigation is the second consolidated proceeding established for Stryker hip replacement lawsuits this year. In January, the New Jersey Supreme Court established a MultiCounty Litigation in Bergen County Superior Court for all Rejuvenate and ABG II cases filed in that state. According to court documents, Judge Brian Martinotti, who is overseeing the New Jersey litigation, has begun a mediation process for these claims. However, the ongoing mediation of the Stryker Rejuvenate hip lawsuits won't affect the case management of the litigation, including discovery deadlines. (In re Stryker Rejuvenate Hip Stem and the ABG II Modular Hip Stem Litigation, No. 296)
[judiciary.state.nj.us/mass-tort/abgstryker/mediation-order.pdf - April 2013]
About Wright & Schulte LLC
Wright & Schulte LLC, a leading personal injury firm, is dedicated to the belief that America's legal system should work for the people. Every day, the attorneys of Wright Schulte LLC stand up for the rights of people who have been injured or wronged, and fight tirelessly to ensure that even the world's most powerful corporations take responsibility for their actions. If you're looking for a law firm that will guarantee the aggressive and personal representation you deserve, please do not hesitate to contact Wright & Schulte LLC today. Free Stryker Rejuvenate and ABG II Modular-Neck Hip Replacement Stems lawsuits case evaluations are available through yourlegalhelp.com, or call 1-888-399-0795.
Contact:
Wright Schulte LLC
812 East National Road
Vandalia, Ohio 45377
1-888-399-0795
http://www.yourlegalhelp.com