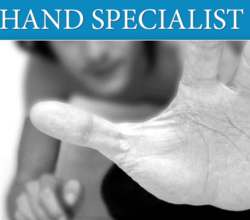 (PRWEB) June 14, 2013
HandSpecialist.net is now launching a new website about the Hand and Wrist Institute that will prove to be an invaluable source of useful information for sufferers of a variety of hand, wrist and arm ailments.
Information is provided to assist visitors to the site in learning more about what a hand specialist provides and the types of conditions that can be treated, such as carpal tunnel syndrome, cubital tunnel syndrome, ganglion cysts, tennis and golf elbow, Kienbock's disease, trigger finger, and arthritis. The website will also offer information about the treatment options that are available to sufferers of these painful and debilitating conditions.
Individuals who visit the site and browse through its helpful pages will learn why it is so important to choose a specialist for conditions affecting hands, wrists, and upper and lower arms. Medical ailments affecting these parts of the body can greatly debilitate sufferers to the point where normal day-to-day functioning may be severely hampered. A hand specialist deals exclusively with such conditions and has the training and expertise that is necessary to successfully handle medical conditions of this nature.
The Hand and Wrist Institute, located in Beverly Hills, California, is known as the leader in the medical industry pertaining to afflictions of the hands and upper extremities. Dr. John Knight is a professional in the field with more than 20 years of experience. He is also an expert pertaining to minimally invasive procedures for treating hand, wrist and upper extremity medical conditions.
The Institute has a high success rate, and the majority of patients who have received treatment, approximately 9 out of 10, have not even needed surgery in order to experience successful results. By perusing the website, visitors who have been suffering with hand, wrist, and upper and lower arm problems can learn a great deal about the Hand and Wrist Institute. Acquiring information about medical conditions and treatment options will help sufferers of various painful conditions to come to a more informed decision about the best way to handle specific afflictions.
The website is easy to use and very helpful in the excellent information it provides. It will be well worth a visit to the site to learn more about all that the Hand and Wrist Institute can offer, especially if medical afflictions are causing a great deal of pain and severely hampering quality of life.