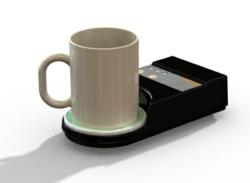 Finally, coffee can be enjoyed hot and fresh until the last sip.
Redmond, WA (PRWEB) June 13, 2013
Named for the quiet buzzing it makes when heating, the Coffee Buzzer is the world's first miniature induction-based device, able to bring a cup of coffee to an ideal temperature right at one's desk so it is no longer necessary to scurry to the kitchen for a warm-up.
Designed to work with any existing ceramic mug, this advanced warmer uses proximity to a magnetic field to heat a metal disk conveniently placed and secured at the bottom of the cup. Since external surfaces are not actually heated, this new technology, invented and perfected by Revollex, is particularly suited for an office or even living room environment as it minimizes the risk of burns and other hazards.
To eliminate the burnt taste typically associated with hot plate methods, the Coffee Buzzer was designed to minimize exposure to high temperatures. The beverage is heated rapidly, usually in about one minute, at which point the heating stops, leaving the coffee ready to enjoy as if it were freshly poured. Besides reheating a beverage, the Coffee Buzzer can also be used to boil a cup of water for tea in just about two minutes right at one's desk.
The company is looking to raise capital for final testing and production. For more information, visit http://igg.me/at/CoffeeBuzzer. Also, the company's website http://revollex.com. Coffee Buzzer is going to change the way people enjoy coffee.