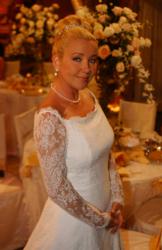 "The 40th anniversary of the Daytime Awards, June 16th on HLN, is an ideal venue to showcase the partnership with The Smithsonian," says NATAS Chairman, Malachy G. Wienges."
Los Angeles, CA (PRWEB) June 14, 2013
Melody Thomas Scott and Alex Trebek will make a special appearance on the HLN June 16th Broadcast to announce the NATAS partnership with The Smithsonian and present Nikki's Wedding Gown from The Young & The Restless to The National Museum of American History
DAYTIME HISTORY: A category defined as "Outstanding Achievement in Daytime Programming" was added for a one time only presentation in 1968. Due to voting rules of the time, judges could opt to either award one or decide whether no one nominated was deserving of the golden statuette. This snub outraged the Daytime community and led to the first separate awards show made just for daytime programming, which was broadcast in 1974 from the Channel Gardens at Rockefeller Center in New York, with hosts Barbara Walters and Peter Marshall. Originally aired during the daytime hours, they moved to night-time in 1991.
Traditionally, the prestigious Daytime Creative Arts EMMY® Awards represent any and all television productions airing between the hours of 2:00 a.m and 6:00 p.m. The Creative Arts contest consists of Writing, Direction (Art, Technical, Talk show, Children Series, Lighting, Animation, Music), Original Song, Editing (Single & Multiple Camera), Sound (Editing & Mixing), Make-up, Hairstyling, Costume Design, Stunt Coordination, Casting for Daytime Dramas, Talk Shows, Morning Programs, Game Shows, Children's Programming both live action and animated, Legal/Court Shows, Culinary Shows, Lifestyle and Travel programs as well as New Approaches categories which include programming done for the internet.
DAYTIME FUTURE: In celebration of the remarkable history of The National Academy of Television Arts & Sciences (NATAS) and the influence that daytime programming and the Daytime Emmys® have had on American culture over the years, NATAS proudly acknowledged a collaboration with The Smithsonian Institute's National Museum of American History (NMAH). The ceremony held on May 9th, 2013, in Washington D.C. included donations from Susan Lucci (All My Children/Daytime Drama), Alex Trebek (Jeopardy!/Game Shows) and Cathy & Phil Parker (Barney/Childrens Programing). "We are excited at the prospect of working with The Smithsonian to tell the story of Daytime Television and its impact on popular culture in America. The 40th anniversary of the Daytime Awards, June 16th on HLN, is an ideal venue to showcase the partnership," says Malachy G. Wienges (Chairman, NATAS).
History EMMY® Award Moments:
Susan Lucci: http://www.youtube.com/watch?v=CgF8b9zxemU and Alex Trebek: http://www.youtube.com/watch?v=f_0rTxjpSD0
The Smithsonian's National Museum of American History will receive the wedding gown worn by actress Melody Thomas Scott as "Nikki Reed" during one of her 12 weddings on the daytime drama, "The Young and the Restless". This gown was worn on air in 2002 during her second wedding to "Victor Newman," played by actor Eric Braeden. Ms. Thomas Scott has been a major player in "The Young and the Restless" daytime drama, acting on the show for more than 34 years. The dress was pledged to the museum during the Sunday June 16 broadcast of the 40th annual daytime EMMY awards.
Through incomparable collections, rigorous research and dynamic public outreach, the National Museum of American History explores the infinite richness and complexity of American history. The museum helps people understand the past in order to make sense of the present and shape a more humane future. The museum is currently renovating its west exhibition wing, developing galleries on business, democracy and culture. The museum is located at 14th Street and Constitution Avenue N.W., and is open daily from 10 a.m. to 5:30 p.m. (closed Dec. 25). Admission is free.
About The National Academy of Television Arts & Sciences
The National Academy of Television Arts & Sciences (NATAS) is a professional service organization dedicated to the advancement of the arts and sciences of television and the promotion of creative leadership for artistic, educational and technical achievements within the television industry. It recognizes excellence in television with the coveted Emmy® Award for News & Documentary, Sports, Daytime Entertainment, Daytime Creative Arts & Entertainment, Public & Community Service, and Technology & Engineering. NATAS membership consists of broadcast and media professionals represented in 19 regional chapters across the country. Beyond awards, NATAS has extensive educational programs including Regional Student Television and its Student Award for Excellence for outstanding journalistic work by high school students, as well as scholarships, publications, and major activities for both industry professionals and the viewing public.
Press Contact: B. Harlan Boll - BHBPR/NATAS 626-296-3757 h.boll(at)dcpublicity(dot)com