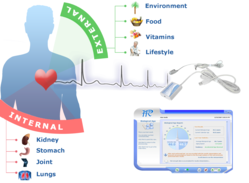 Health Reviser released Heart Rate Variability Cloud APIs.
(PRWEB) June 13, 2013
Health Reviser is a company providing cloud HRV applications to allow professional users and consumers to assess and track health, fitness and stress conditions in the body. Before today, Health Reviser was the only application consuming its comprehensive normative heart rate variability database collected for the period of more than 18 years that includes assessment results for thousands of people of a wide spectrum of ages and genders. Now, other players in the health market are invited to participate in providing end-to-end heart rate variability solutions to people.
"These days Heart Rate Variability is becoming a very popular instrument as a screening tool in disease processes, for general health assessments, and to predict the likelihood of future certain changes" says Alexander Bandarchuk, Health Reviser CEO. "What slows down HRV adoption is the absence of a public normative database that would allow normalizing HRV results". Now Health Reviser is trying to solve the problem by providing RESTful APIs that can be used not only to calculate HRV parameters for various assessment types, but also to retrieve XML reports with information about health, fitness, stress condition and trends.
The services hosted on Health Reviser servers are frequently updated with improved algorithms and extended norms without client intervention, ensuring reliable access 24 hours a day, 7 days a week.
For more information, visit: http://www.healthreviser.com
About the Company
Health Reviser is a team of software and hardware development engineers, skilled therapists and medical doctors. The team has more than 18 years of experience in the development of health monitoring and diagnosis systems. Health Reviser was created as a product that is affordable and usable for professionals as well as consumers with a lack of medical knowledge. Health Reviser specialists are actively participating in numerous studies and health research projects in USA and around the world, helping MARS-500 mission and cooperating with various domestic and international Universities.