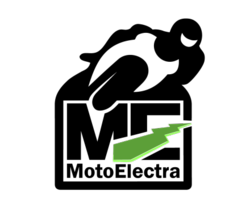 The motorcycle itself performed beautifully.We could have done it faster, but we wanted to be safe.
Blue Grass, Virginia (PRWEB) June 13, 2013
Moto-Electra announced today that it has set a coast to coast world record for electric vehicles by making a trans-continental run in 3.5 days (84.5 hours). There was no battery swapping, and the vehicle made the entire trip under its own power. The record's verification is available through James Madison University personnel who monitored the ride, as well as on-board data acquisition systems.
This record was established using a standard motorcycle design – the same used by the Moto-Electra team for GP type racing, land speed racing, and everyday driving.
"The motorcycle itself performed beautifully," said team manager Brian Richardson. "The batteries were rock solid and the heat and rain were not a factor. We could have done it faster, but we wanted to be safe. If we were to do it again, we would travel farther between charges, and increase the speed a bit -- something learned."
According to Richardson, "The technology for electric vehicles may be 20 years out before it takes hold as a solid, feasible addition to gas-fueled machines. But in today's fast-paced world of technological changes, who knows?"
The team gives high praise to young Will Hays, a sophomore at James Madison University. "He was exceptional," Richardson noted. "With a laptop and other equipment, this student captured data every second - things like wind speed/direction, volts, amps, temperature, GPS location/speed/elevation. If you wanted to start installing charging stations across the U.S., Will has the database."
Former AMA PRO Thad Wolff rode the motorcycle for the Coast to Coast record. Thad also raced this bike successfully in the 2010 and 2011 TTXGP series. Moto-Electra was ranked second in North America for the 2011 season.
"The funny thing is .. when we said we could do this, many said it was impossible," said Richardson. "Already people are saying that it was easy and anyone could do it. I think that was the whole point -- to change perceptions."
Earlier in the week, another motorcyclist traveled from west to east using a different style all electric motorcycle. His time was just under 6 days, and the combination of the two crossings showed that the use of electric vehicles for long range transportation is now on the horizon.
"At the turn of the 20th century, gasoline powered vehicles were useless for long distance travel," concluded Richardson. "There were no roads, no filling stations, and the vehicles were not dependable. Gas powered vehicles could never replace the horse for long distance travel. Fast forward 100 years, and our goal is to challenge perceptions about the useful range of electric vehicles. We did just that. I think it's only a matter of time when charging stations will allow cross country travel by anyone with an electric vehicle."
To see pictures of the trip along the way, check out: https://twitter.com/ecannonball or Facebook at Moto Electra Racing.
Sponsored or assisted by: IceWarp, Inc, StarkPower, James Madison University, Manzanita Micro Chargers, Virginia Urology, Freedom Solutions Group, Virginia Association of Electric Cooperatives, Cardo Systems, Dunlop Tires, Vanson Leathers, High Performance Electric Vehicle Systems, Race Tech, BST Wheels and Brocks Performance.
ABOUT MOTO-ELECTRA
Moto-Electra Racing intends to re-invent the motorcycle as we know it. Started on a sheep farm in the Blue Grass Valley of Virginia, Moto-Electra Racing is developing some of the fastest electric motorcycles in the world. "You can silently accelerate to 130 mph, or cruise along listening to the birds in the trees. This is an expansion of the sport of motorcycling. We invite you to visit our quiet Blue Grass Valley -- To see for yourself the future of motorsport." Brian Richardson