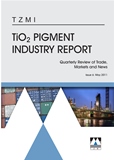 macroeconomic global and regional analysis with the latest TZMI insights to provide commentary on TiO2 industry developments
(PRWEB) June 15, 2013
TZ Minerals International (TZMI) is pleased to announce the release of Issue 14 of the TiO2 Pigment Industry Report (PIR) for 2013. Published quarterly, with monthly data updates, PIR is an essential tool to keep you up to date with the latest news, financial results, supply/demand and pricing information.
The quarterly edition combines macroeconomics global and regional analysis with the latest TZMI insights to provide commentary on TiO2 industry developments including trade, demand and pricing. PIR also has the latest company developments and financial results across the value chain from TiO2 producers through to end-users such as coatings and plastics companies.
The comprehensive data set included in every issue covers global production, trade, pricing and demand. The May issue also includes a feature on recent movements in the TiO2 pigment industry.
TiO2 Pigment Industry Report is a powerful data-driven report of 80-100 pages. The TZMI databases and analysis which enable this product are, we believe, the most comprehensive and accurate in the world and there is nothing available which matches this product and will provide you with:

Up to date news and analysis for the TiO2 market
The latest international trade supply/demand and pricing information for the World, 7 regions and more than 50 individual countries.
If you would like more information about how to order TZMI's TiO2 Pigment Industry Report please visit http://www.tzmi.com
About TZMI
TZ Minerals International (TZMI) is a global, independent consulting and publishing company with offices in Australia, China, the US and South Africa. The strength of TZMI's consulting services stems from extensive practical experience in the mineral sands, titanium dioxide and coatings industries and from a comprehensive database, which has been built up over many years.
TZMI has proven expertise gained from our consultants having many years of direct operating experience in the industry in chief executive, senior operational, analytical and marketing roles.
TZMI's publications and data services support the consulting activities and ensure up-to-date, high quality and comprehensive data, analysis and information across the mineral sands, zircon and TiO2 pigment industries.
TZMI provides operational and technical expert advice on many areas including:
Mergers and Acquisitions
Market Assessments and industry analysis
Due diligence
Pre-feasibility studies incl. preliminary capital and operating cost estimation
Competitive cost analysis and benchmarking
Technical reviews and audits
Resource assessments
Physical separation test work
Flowsheet development
Customised data analysis and reporting
FURTHER INFORMATION
Tracey Kelly – BD and Marketing Manager
TZ Minerals International
E: tracey.kelly(at)tzmi(dot)com P: +61 8 9359 6000